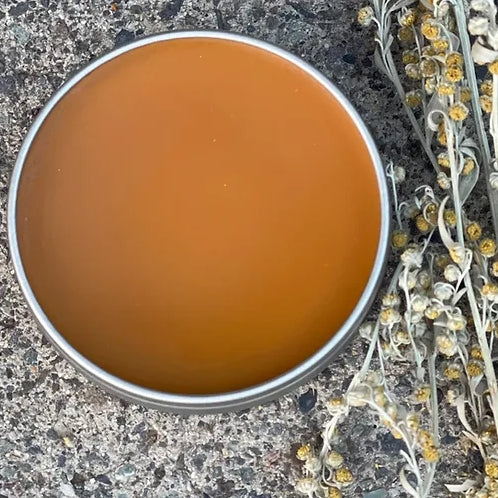 Wóyaŋzaŋ Waniče Salve
Wóyaŋzaŋ Waniče means "There is No Pain." We chose this name for our latest Mugwort, Arnica, Comfrey, Tumeric, Ginger & Cayenne Pepper infused olive oil with shea butter, cocoa butter, beeswax and lavender essential oil pain relieving and healing topical salve.
This salve is for mild pain relief, good for blood circulation and bruising, arthiritc symptoms, and especially good for those who have diabetes and need to take special care of their feet.
The mugwort is a strong antimicrobial, anti-inflammatory and antifungal medicine plant.
The arnica is an anti-inflammatory that relieves muscle and joint pain. The comfrey is also an anti-inflammatory and helps heal and soothe bruises, pulled muscles,ligaments, fractures, sprains, strains, and osteoarthritis symptoms.
The tumeric is anti-inflammatory and an anti-fungal as well. The ginger helps with soothing sore muscles and joints with sore joints and swelling. The cayenne helps with soothing and relieving pain and supports healthy blood flow and circulation.
***** Please use gloves to apply, and DO NOT allow contact with your eyes. Wash hands after use. May cause stains in clothing and fabric******