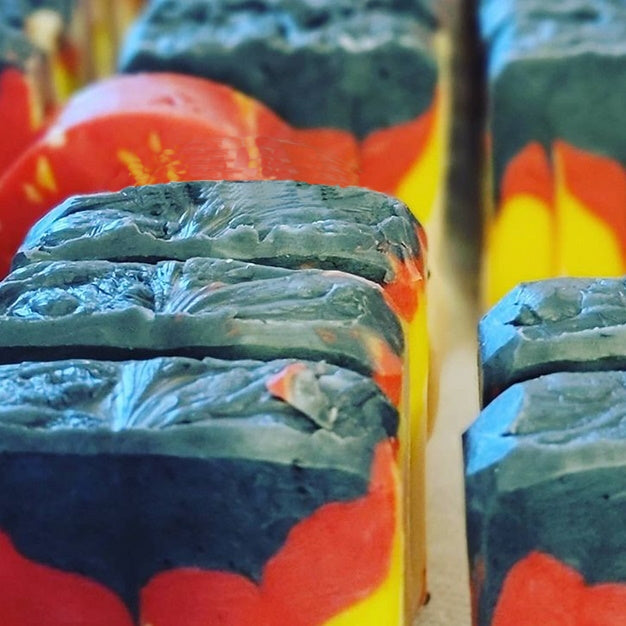 Sage Soap & Shampoo Bar
We grind the sage and make an infused oil and add it after the lye and oil cook. The imposed Western Latin name for this medicine plant variant is Artemesia ludoviciana. This was harvested by our family while we were home along the Porcupine Creek on Standing Rock north of Fort Yates, North Dakota. 
Wild sage has been used in Lakȟota ceremonies as far back as our creation stories, the beginning of time. The plant has been used to cleanse, purify, and chase away all that is bad or negative. Sage is also a natural disinfectant, works just as well as Lysol. It can be burned and the smoke will kill airborne bacteria, and the tea can be used as an alternative to chemical cleaners used to clean and disinfect your home. You will find sage is a part of every ceremony in one way or another. Wild sage also has its medicinal uses as well. A tea made of wild sage has been used to treat colds, induce sweating, stomach ailments, and to help with diabetes. The tea has also been used to help with skin disorders; washing with sage tea has been said to help treat acne, psoriasis, eczema, and other skin problems. Wild sage has also been used to help treat, cleanse, and heal puncture wounds.
Made with Good Medicine, Love & Goat's Milk, Ground Sage, Avacado, Castor, Coconut, Olive & Sage Oils, Tallow, Lye, Greek Yogurt, Kaolin Clay, & Sage Infused Oil. Sage hand harvest from the Porcupine Creek, at Standing Rock Dakota / Lakota homelands.
Wopila from our family for your continued support and don't forget to share the good medicine!
We make all of our soaps by hand and in small batches. Each bar is unique and the color, shape and design may vary from bar to bar and batch to batch.