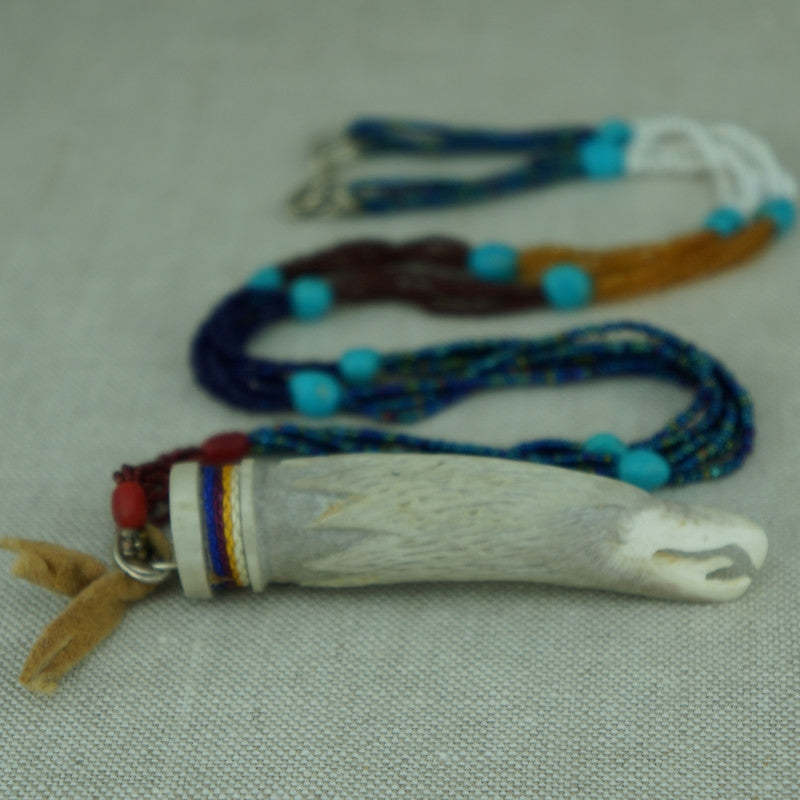 Carved Antler Eagle Fetish with Quills and Beaded Necklace
PLEASE NOTE: Regretfully, this necklace is currently out of stock.  We hope to have more of these beautiful necklaces soon. Please contact us to be placed on a waiting list for this item.
This is a truly incredible museum quality piece!
Tony Horse Road is a living treasure of Oglala Lakota history and artistic skill!
The details in this carving are amazing!!
Eagle fetish is strung on a necklace of tiny delicate seed beads in iridescent red, blue/multi, yellow and white, interspersed with natural turquoise and coral beads.  Around the top of the fetish, Mr. Horse Road has woven the tiniest rows of blue, red, yellow and white porcupine quills. Clasp and findings are sterling silver.
Piece is signed "HR" on the eagle's underside. 
Signed, original, unique Oglala Lakota Sioux Native American art.
Please be sure to also check out our other items by Mr. Horse Road.