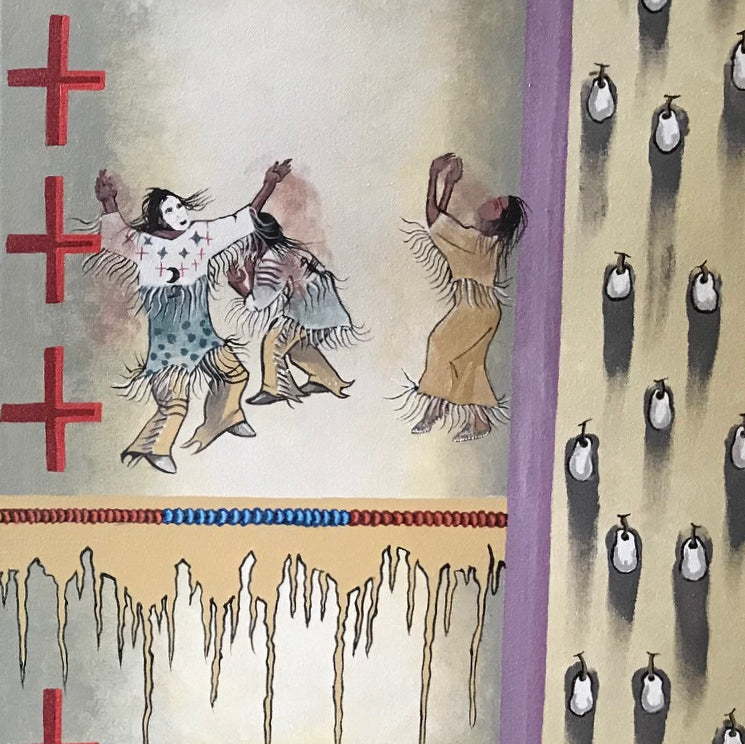 Original Painting - Wounded Knee
Seven Fires Art is pleased to offer this acrylic on canvas diptych by Richard Red Owl.
Wounded Knee
In this two-part work, Red Owl recalls the ghost dance and massacre at Wounded Knee in 1890. The decorations, brass conchos and elk teeth, represent things found on the dead that the soldiers collected. To this day, these things show up, as they are returned.  Also depicted is the spirit bird that usually sits around the lake. Indians believed there were spirits when the birds talked to each other. The ragged edge represents the torn clothing of the people, decorated with beadwork. And on left is the church that was built on the site and destroyed during the AIM protest in 1973.

Two canvases mounted on painted board, 30" x 48" total. Signed Rich Red Owl.

The watermark "Red Owl" has been added to protect copyright and does not appear in the original painting. Copyright remains property of the artist. Reproduction of any type without the consent of the artist is expressly forbidden.