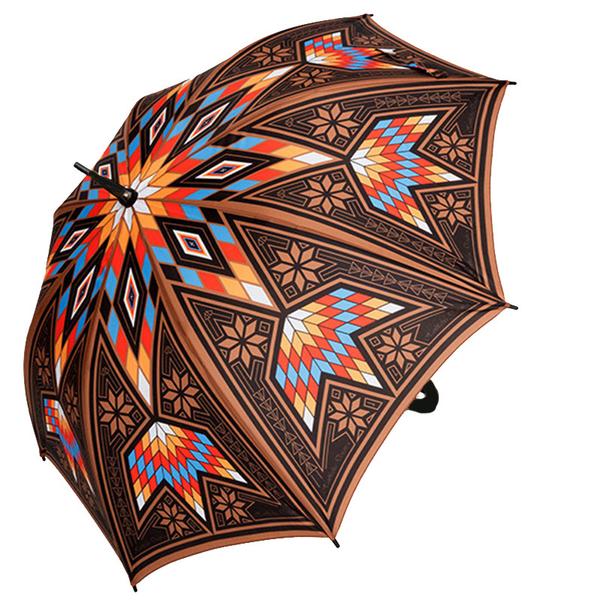 Umbrella "Morning Star"
High Grade Polyester – Waterproof and easy to clean. With a sturdy shaft and comfortable handle.
Long Last Print

–

 Vibrant designs stay bold.
Generous 101cm (40") Diameter 

–

Just the right size to protect you from the rain or sun. 
Significance

 

–

 Each design is inspired by Native American stories handed down through the generations. 
Black metal shaft with high-grade black plastic handle.
The Morning Star is considered one of the most important and sacred stars in the Lakota belief system. This star is seen in the East, at a time and place when the Sun (Wi) is almost ready to greet the day. During this twilight time, the Morning Star is surrounded by the changing sky. Black (night), red/orange (beginning of dawn) and blue/white (the beginning of the day represent the journey of Wi. This movement coincides with the four stages of life; the transition from birth to youth (a time of learning and growing), middle age to old age (a time of reflection and wisdom), reflecting our journey and purpose in life.
Artist's Statement on the Morning Star Luxury Umbrella:
"The Morning Star Umbrella was designed to pay homage to the Lakota connection and understanding of the constellations. Even though the Stars are considered to be none of the people's concern (for it was believed the stars had their own path and agenda), the Medicine Men were the only ones that could communicate with the stars. My research into this lead to a number of elders explaining the physical path the people followed, that mimicked exactly what the constellations are doing. If you read the story on my Mysteries of the Stars Bandana, I explain this further. Most days I wake up before dawn, and when it is clear, I sit and remember my peoples respect for this first star." ~Melvin War Eagle
Please Note: Umbrellas are made in China.