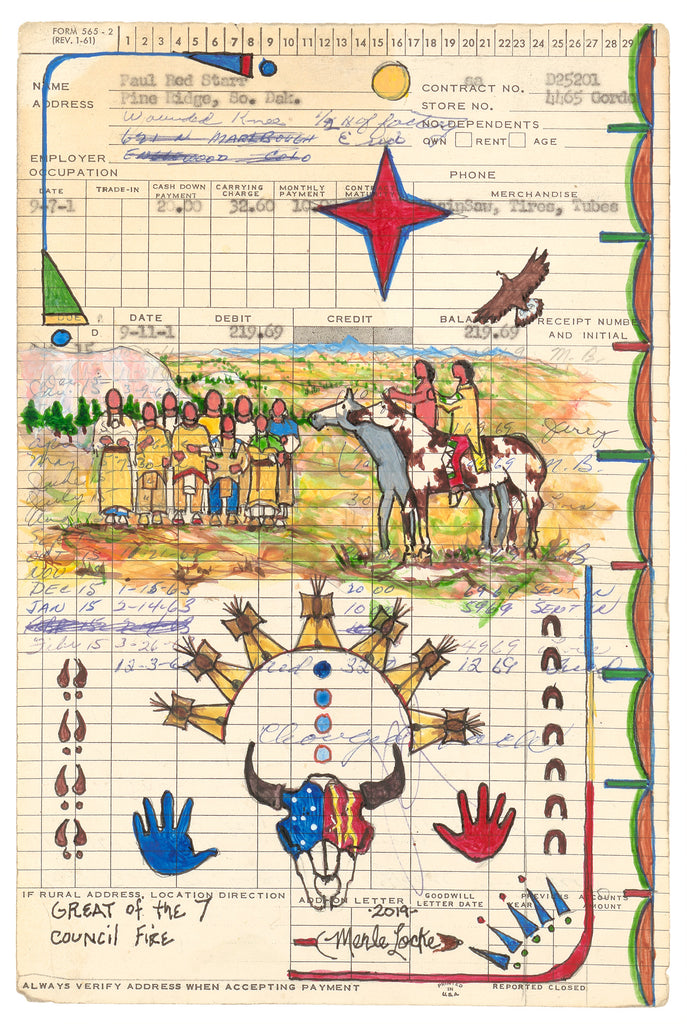 (Fine Art Prints) Ledger Art Series - Notable Names - Four Works
Seven Fires Art is pleased to offer limited edition fine art prints of this special Ledger Art series by noted Lakota Artist Merle Locke!
Gordon Nebraska Store Accounts for Pine Ridge Residents Circa 1960s
This series of ink and acrylic on ledger sheets from a Gordon Nebraska store bordering the Pine Ridge Reservation shows credit accounts for four Oglalas; a snapshot of the interaction of the Lakota people with the white world during one of those between times on the reservation, the early 1960s.
Paul Red Starr 1961-1963 ~ Full of imagery relating to the title, Great of the 7 Council Fire. Note the red star! Blue and red hand prints, beautifully rendered buffalo skull and seven tipis, the landscape of Locke's homeland and very nicely depicted people and horses. Beautiful.
Amelia American Horse 1967-1968
Wilson R. Shield 1967-1968
Emerson Stone 1965-1966
High resolution scans are reproduced in high-quality giclee prints on fine art stock at the same 9" x 8" size as the originals plus a 1" border. Unframed; custom framing is available; please inquire. Seven Fires Artists are paid generous royalties for every print made. 
Prints are packaged individually in protective acetate sleeves.
Merle is one of the most recognized Oglala Lakota artists working today.
Watch a video of Merle discussing his art.