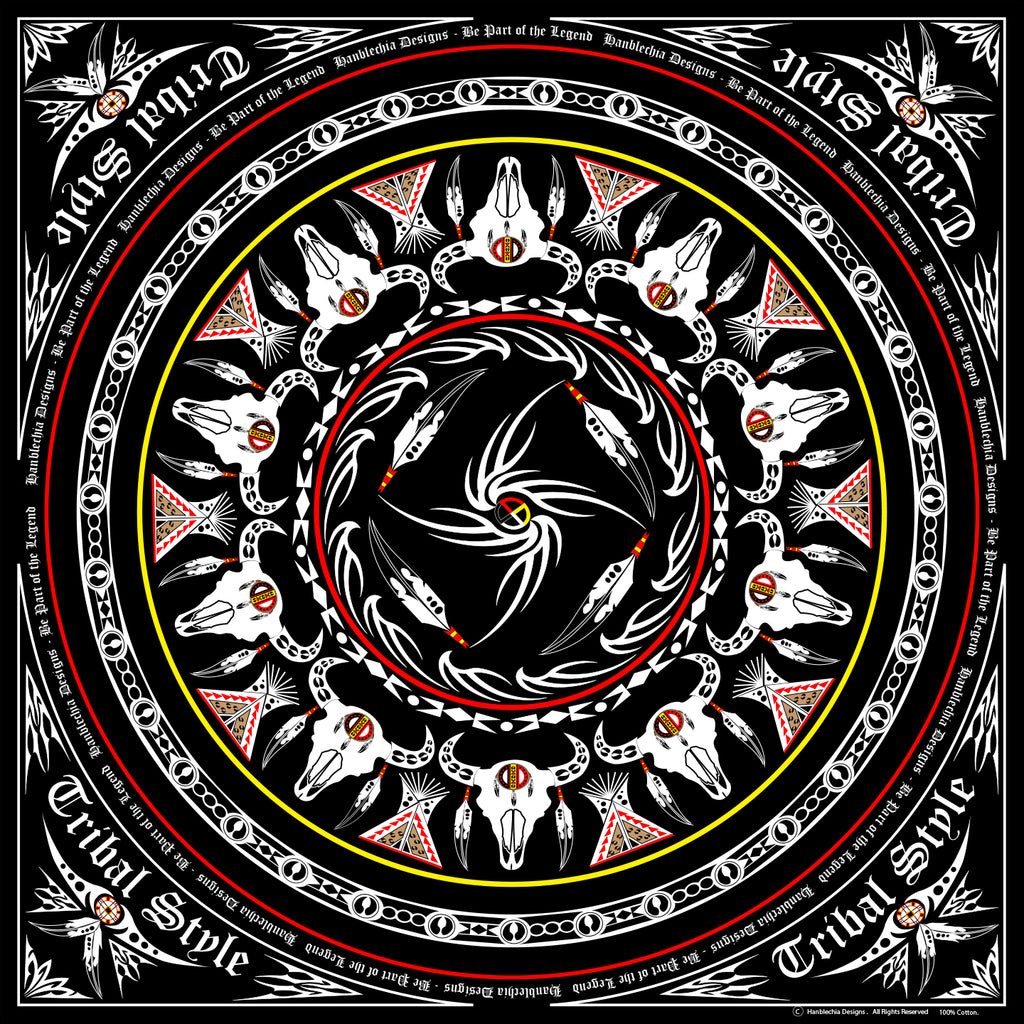 Buffalo Spirit Bandana
100% High Grade Cotton  – The more you wash it, the softer it gets. Hand wash in cool water.
Long Last Print – Vibrant design lasts through many washes.
Generous 56cm x 56cm (22" x 22") Size 

– 

Just the right size to wear around your neck or head.
Significance

– 

 Add meaning to your wardrobe. Each design is inspired by Native American stories handed down through the generations. 
Free Shipping!
It is believed among my people, the Oglala Lakota Sioux, that long ago the people once lived in the underworld, where they had always been comfortable. One day, Iktomi, the spider (trickster), tricked the Buffalo People (Pte Oyate) and told them that life would be much better if they were to live on top of the earth. The people came out from the Underworld at a place known today as "Wind Cave" in the Black Hills of modern-day South Dakota. When the people came out they realized that life was very harsh, and they were unable to return to the Underworld again. On seeing the suffering, Tatanka, a Holy man who warned the people not to go, turned himself into a buffalo so the people would have food and shelter, the embodiment of self-sacrifice. Tatanka stayed with the people and became a great Nation, always connected and related to the Lakota. 
Artist's Statement on the Buffalo Spirit Bandana:
"The Buffalo Spirit Bandana was a vision I had for some years. I had been traveling back and forth to Australia and had the chance to, as they say, step outside of my box. It was this different perspective that gave me the opportunity to see my people, the Lakota, as a whole. I had thought about the connection the old ones had to the Buffalo Nation and realized how today some of my people are forgetting the stories, the part of us that makes us who we are, the Buffalo Oyate (Buffalo People)." ~Melvin War Eagle
Please Note: Bandanas are made in China.