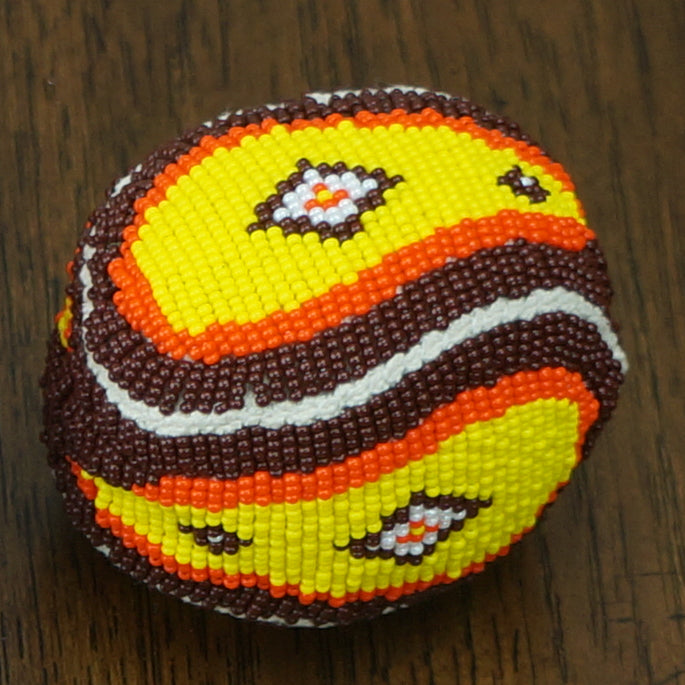 Beaded Leather & Canvas Balls
Fully-beaded with seed beads over brain-tanned leather and cotton canvas masterfully stitched by Maretta Afraid of Bear. Traditional Lakota Design. Cotton filled. Approximately 9" diameter.
Each ball is hand made and unique; beading pattern may vary from photos. Custom orders are welcome. Please allow approximately two weeks for special orders.
The Ball-Throwing Ceremony
Tapawanka-Yeyapi
In perhaps the most beautiful and important story of the Oceti Sakowin, the Ball-Throwing Ceremony, Tapawanka-yeyapi, was one of the seven sacred ceremonies that White Buffalo Calf Woman promised would be revealed to the People of the Seven Council Fires. The seven ceremonies are Purification, Vision Seeking, the Sun Dance, the Ball Throwing, Making a Buffalo Woman, Making as Brothers, and Owning a Ghost.
Traditionally, balls were made of rawhide finely decorated with porcupine quills and ideally created by Dreamers who received spiritual help to create objects possessing supernatural potency, wotawe.
Ball-Throwing became one of four ceremonies required to obtain the office of Shirt-Wearer in pre-colonized Sioux society. Ball-Throwing was also an important part of coming of age for young women, especially in well-to-do families. The help of a Buffalo Dreamer was enlisted for the ceremony and it concluded with a formal giveaway in which the Dreamer or the girl threw a red painted ball among the visitors. Each time the ball was thrown, the father gave a horse or gift in honor of his daughter to whoever caught it.  When the supply of horses and gifts was exhausted, a feast was given. It was obligatory for a man to give at least one of these ceremonies if he expected to be recognized as leader among his people.