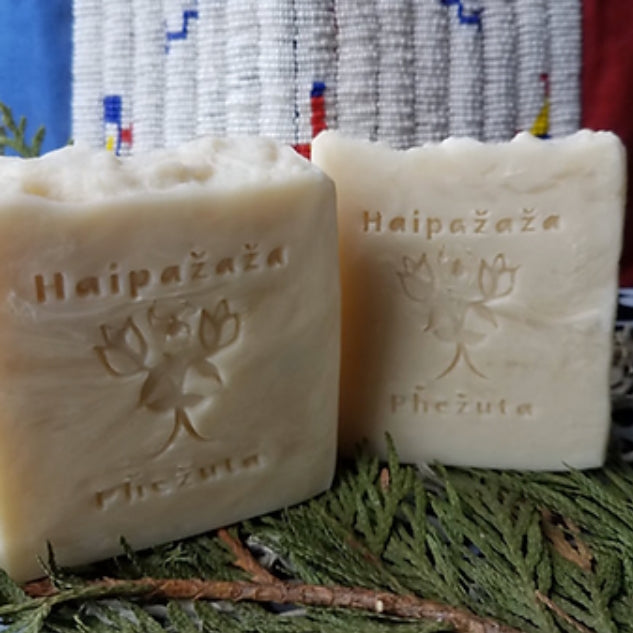 Pȟehiŋ Akhíšoke: Nettles, Rosemary Leaf & Horsetail Soap & Shampoo Bar
The combination of Nettles, Rosemary and Horsetail is an herbal recipe shared with our family by indigenous ethnobotanist Linda Black Elk. These three herbs are said to promote hair growth. Our family reached out to Linda, because after my two latest pregnancies, my hair thinned out dramatically. For the past two years, I have used an infused oil and also a tea on my hair of the herbs in this shampoo bar. I asked my husband if he would make me a shampoo bar that had these specific herbs in it for my continuous battle with thinning hair.
This particular shampoo bar is made out of complete love and is infused with good medicine, love and prayers of a husband to a wife. We use these shampoo bars on our babies for their skin and hair as well. Made with Organic Grape seed oil infused with Nettles, Rosemary Leaf, and Horsetail added at the very end of the cooking process, Also infused with Rosemary, Lemon and Eucalyptus Essential Oils. Includes Organic Goat's Milk, RSPO Sustainable Palm Butter, Coconut Oil, Canola Oil, Castor Oil, Sugar, Greek yogurt, Lye, Kaolin Clay, and Scented with Rosemary, Lemon, & Eucalyptus Essential Oils.