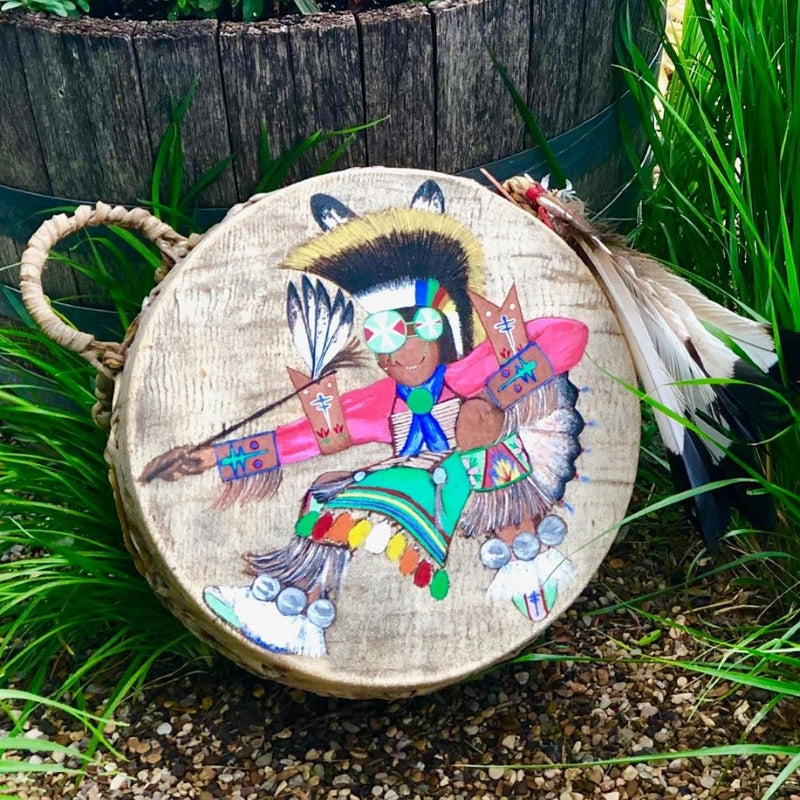 Buffalo Hide Drum with Dancer
Buffalo hide and wood drum with original painting of dancer in bright colors. Fabulous wrapping of the hide and handle make for a very durable piece.  Decorated with five feathers painted to look like eagle feathers, wrapped with red-dyed sinew.
Now save $150! 
Drum is approximately 14" in diameter by 7" high.  
| | |
| --- | --- |
| Eric Betoni is a creative entrepreneur, jewelry maker, handbag designer, artist and workout inspirator. Eric grew up in Northern New Mexico amid the complex network of checkerboard reservation land. Inspired by indigenous landscapes and reservation life unique to all tribes, Eric creates art that speaks not only to pictorial narratives but also to a higher degree of actualization for indigenous women, men, children and families. Eric has created earrings out of a variety of materials, including elk, cow and deer hide, paint and pencil. He has designed apparel with catchy sayings from his personal experience with weight lifting and his journey toward healthy holistic living. His handbags have pictorial narratives inspired by regalia worn by his son. However, the biggest influence for his work comes from his interpretation of his lifestyle known as Reborn Lifestyle. His vision is for his art and work to be narratives that speak to collectors uniquely and originally, as each work of art he creates is never duplicated. |   |
Above all Eric is a life partner to Tenesha, an early childhood educator and together they raise two young adults thriving through high school. His son is following his entrepreneurial path and his daughter is definitely his sidekick artist in training.
Eric Betoni joined Seven Fires in June of 2019. He is a member of the Navajo Nation and visits South Dakota regularly. His work includes ceremonial items, painted drums, bags and earrings.
Contact Eric by email at ejbetoni07@gmail.com or by phone at 505 609-0633.