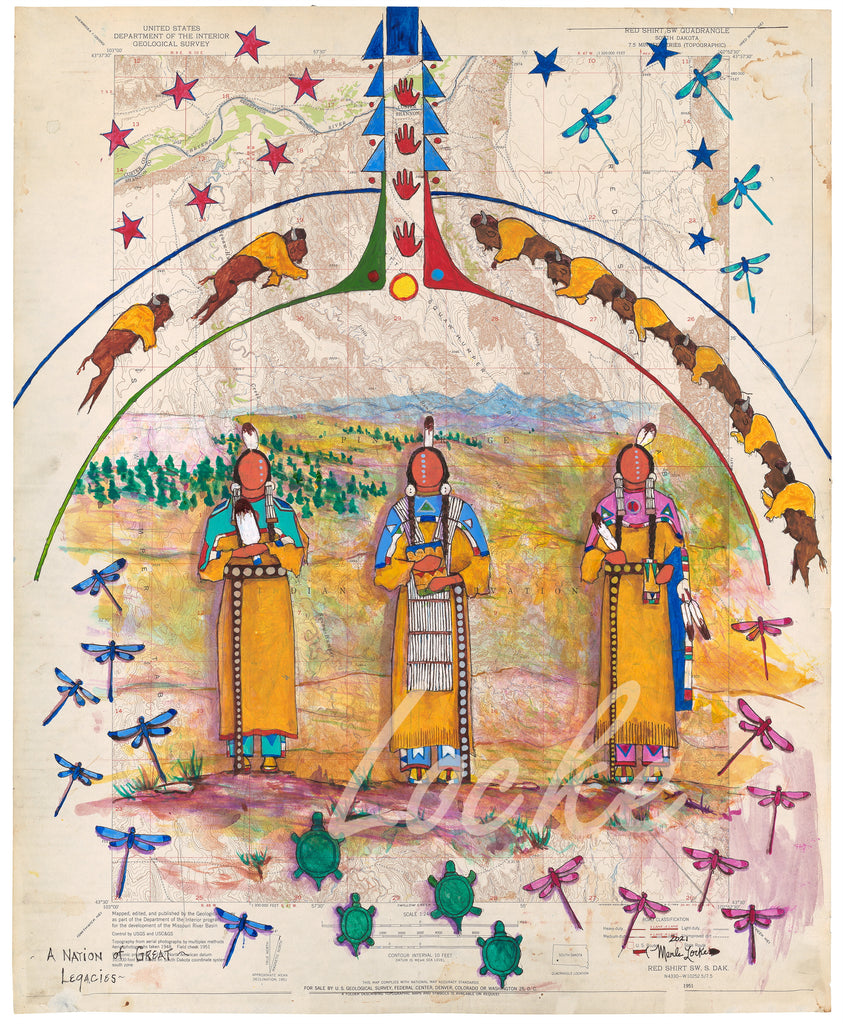 Original Ledger Art - A Nation of Great Legacies
Seven Fires Art is pleased to offer this powerful and important piece, arguably the finest and most historically significant work of Ledger Art by Lakota Artist Merle Locke:
A Nation of Great Legacies
Original Ledger Art on an original 1951 US Department of the Interior Geo Survey Map of the Red Shirt Table area. Zoom in on the images for a shocking and sad lesson in not-so-distant US history: 
The place names Sxxxx Hxxxxx Table, Little Sxxxx Hxxxxx Table, Sxxxx Hxxxxx River, Little Sxxxx Hxxxxx River plastered all over this official US government map are extremely derogatory to Native American women. This terrible legacy is just part of the legacy of this very significant area, near the Stronghold Table and Cuny Table, that has largely been hidden.
Locke has done a beautiful job of painting this interesting document. Signed and dated 2021. Large, non-standard 23" x 28" size. Unframed.  Framing is available; please inquire. Original includes artist photo and bio.
Prints: This painting is also available in limited-editions of two sizes: Full 24 x 28" size and Half 12 x 14" size. High-quality giclée prints on fine art paper velvet with a 1" border. 
Custom Framing: Custom archival framing is also available. Please contact us to design your perfect frame and mat combination. One example - a half-size print with mahogany frame with Devonshire mat - is offered here. Please allow three weeks.
Great Deals on Framed Prints In Stock Ready to Ship! Only 2 Available!
1) A full-size print is framed using all-new archival materials under glass in a great quality repurposed metal frame with a striking French white mat. The frame is painted bronze with copper accents and includes hanging hardware. Large finished size is approximately 33" x 25". The repurposed frame makes this a great deal!
2) A special edition framed 10x12" print of this work is available at a special price! Giclée print on archival matte paper in a soft brown frame with distressed gold edge, beautiful linen mat, clear glass, archival materials, Lineco backing and hanging hardware.
Please be sure to check out our other offerings by Merle Locke!
The artist receives a royalty for each print made. Watermark "Locke" is added for security and is does not appear on the original or prints. Copyright remains the property of the artist. Reproduction of any type without the consent of the artist is expressly forbidden.
Merle is one of the most recognized Oglala Lakota artists working today! 

Watch a video of Merle discussing his art.