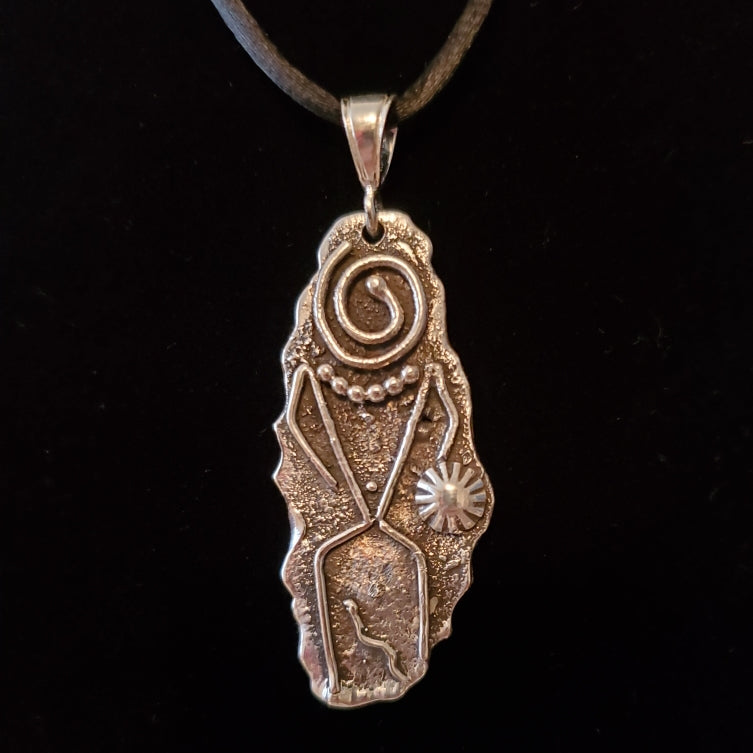 Time Traveler Pendant
Pre-Order - Please Allow 3 Weeks
Double-sided sterling silver pendant full of meaning.

2" long plus bail x 1" wide. Artist's signature stamp on the back. 
Designed by Stuart Proud Eagle Grant and made in the USA.
Time Traveler

Side One
Our Creator empowered this Sacred Human with his own portal: This spiral flows in a fluid motion toward the Light Force. His shield offers protection for all nations. Travel with him in the Sacred Light Force from our Creator.
Side Two
Time Traveler has entered the light of a star system no one has visited before. He goes to any planet he wishes to perform sacred work for our Creator.
Many Stuart Grant sterling silver pieces are oxidized (intentionally tarnished) to enhance the design. Do not use liquid or dip silver polish on oxidized pieces. Store sterling silver in Ziploc bags to deter tarnishing. Clean with a soft silver polishing cloth and use a paste silver polish only on the raised and smooth surfaces when necessary.