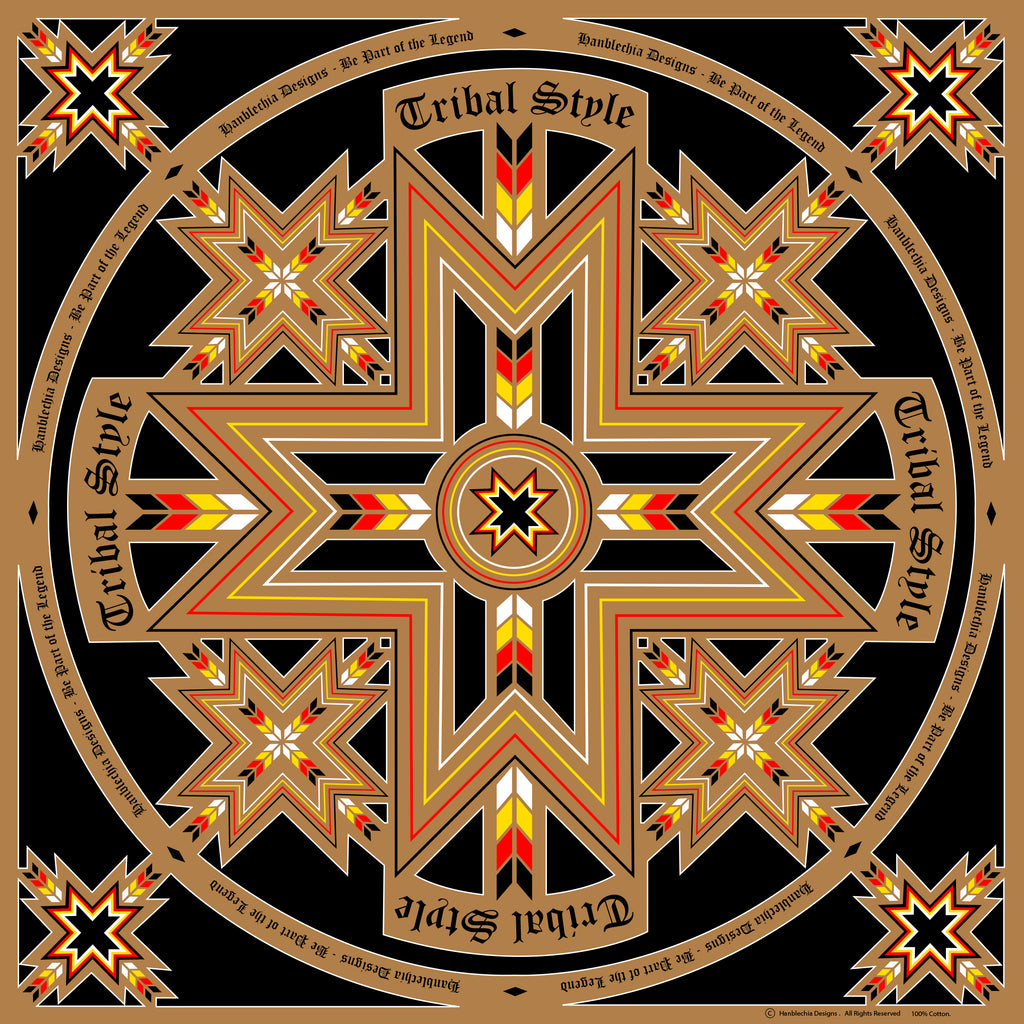 Mysteries of the Stars Bandana
100% High Grade Cotton  – The more you wash it, the softer it gets. Hand wash in cool water.
Long Last Print – Vibrant design lasts through many washes.
Generous 56cm x 56cm (22" x 22") Size 

– 

Just the right size to wear around your neck or head.
Significance

– 

 Add meaning to your wardrobe. Each design is inspired by Native American stories handed down through generations. 
Free Shipping!
To the Lakota, the stars are considered very mysterious, and at the same time, very sacred (wakan). It is believed that our relatives are the stars above and they were seen as living in great order and structure. So strong was this belief, that the Lakota living on earth would mimic their relatives, by moving camp where they were shown to by the constellations. Certain ceremonies are adhered to along this path, which followed a distinct circle around such sites as; Black Hills to Stone Butte, and completing the circle at Bear Butte, where the Great Mystery lives. This design pays homage to the stars (our ancestors) and the sacred (wakan) path that is taken by all Lakota during the winter camp, the embodiment of the sacred circle.   
Artist's Statement on the Mysteries of the Stars Brown Bandana:
"This design was created to pay respect to the old ones. This particular story was something that I had just learned and found that on the Rosebud and Pine Ridge Reservations, there is a group of elders who are the Keepers of the Star Knowledge. I had thought this type of knowledge was gone, but thankfully I was wrong. Each of these members had their gifts handed down to them, which brought me to another point; how important it is to share our stories with the young ones, no matter what culture you come from, this is essential for the understanding of life around us all." ~Melvin War Eagle
Please Note: Bandanas are made in China.