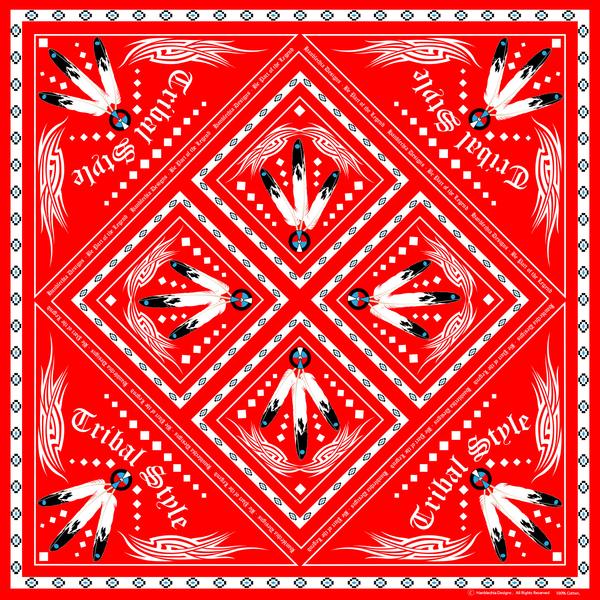 Deeds Well Done Bandana
100% High Grade Cotton  – The more you wash it, the softer it gets. Hand wash in cool water.
Long Last Print – Vibrant design lasts through many washes.
Generous 56cm x 56cm (22" x 22") Size 

– 

Just the right size to wear around your neck or head.
Significance

– 

 Add meaning to your wardrobe. Each design is inspired by Native American stories handed down through the generations. 
Free Shipping!
Lakota people consider feathers as very sacred symbols. They are used on sacred pipes, for ceremonies, and are tied in the hair. Different feathers mean different things. For example, the green feather of the mallard drake embodies generosity and hospitality. The red feather of the redheaded woodpecker symbolizes holiness and sincerity. These particular feathers were only worn by holy men. The eagle feather is the representation of purity of life, divine spirit and freedom. The Lakota believe that the eagle is the leader of the bird nation. He has great power and is the only one able to fly high enough to reach the Great Father. He sees all things on earth. To be given a feather is a great honor. It means that you have done a great deed and proven yourself. This eagle feather shows that the wearer is respected by the people. The blue symbolizes wisdom and confidence, the red is all things that are sacred, and white is the human emotion of pleasure.
Artist Statement on the Deeds Well Done Bandana:
"When I envisioned the Deeds Well Done Bandana, I really liked the fact that as a Lakota, you are not just honored because you fought well, or did some extraordinary task, but honored as the everyday person you are. To show compassion, wisdom, and understanding toward another was just as important. This red bandana design reminded me of ancestors like Crazy Horse and Sitting Bull who were not only honored for bravery and visions but also for compassion and wisdom shown in everyday life." ~Melvin War Eagle
Please Note: Bandanas are made in China.