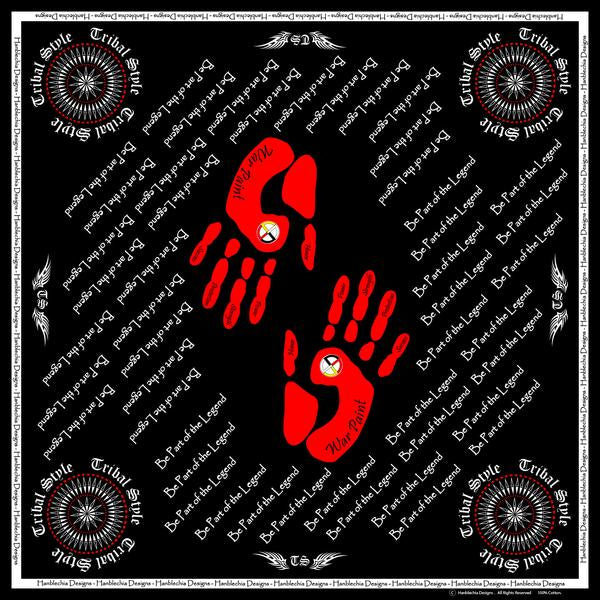 Honor and Strength Bandana
100% High Grade Cotton  – The more you wash it, the softer it gets. Hand wash in cool water.
Long Last Print – Vibrant designs last through many washes.
Generous 56cm x 56cm (22" x 22") Size 

– 

Just the right size to wear around your neck or head.
Significance

– 

 Add meaning to your wardrobe. Each design is inspired by Native American stories handed down through the generations. 
Free Shipping!
Color and symbols are very important to Native Americans; they tell others about a person's intent, attributes, status and their spirit helpers. The handprint, for instance, symbolized success in battle and it was considered a great honor for a warrior to paint his favorite horse with a this symbol. In this design, the handprints are painted red, indicating that the wearer has strength, power, success, honor, and the protection of the Sacred Spirit.
Artist's Statement on the Honor and Strength Bandana:
"The Honor and Strength Bandana is a design I always wanted to do. I wanted to concentrate on the symbolic significance of design and color because the unspoken word often carries more strength than the spoken. This is the case in everyday life. I suppose it is just like the saying goes, actions speak louder than words." ~Melvin War Eagle.
Please Note: Bandanas are made in China.