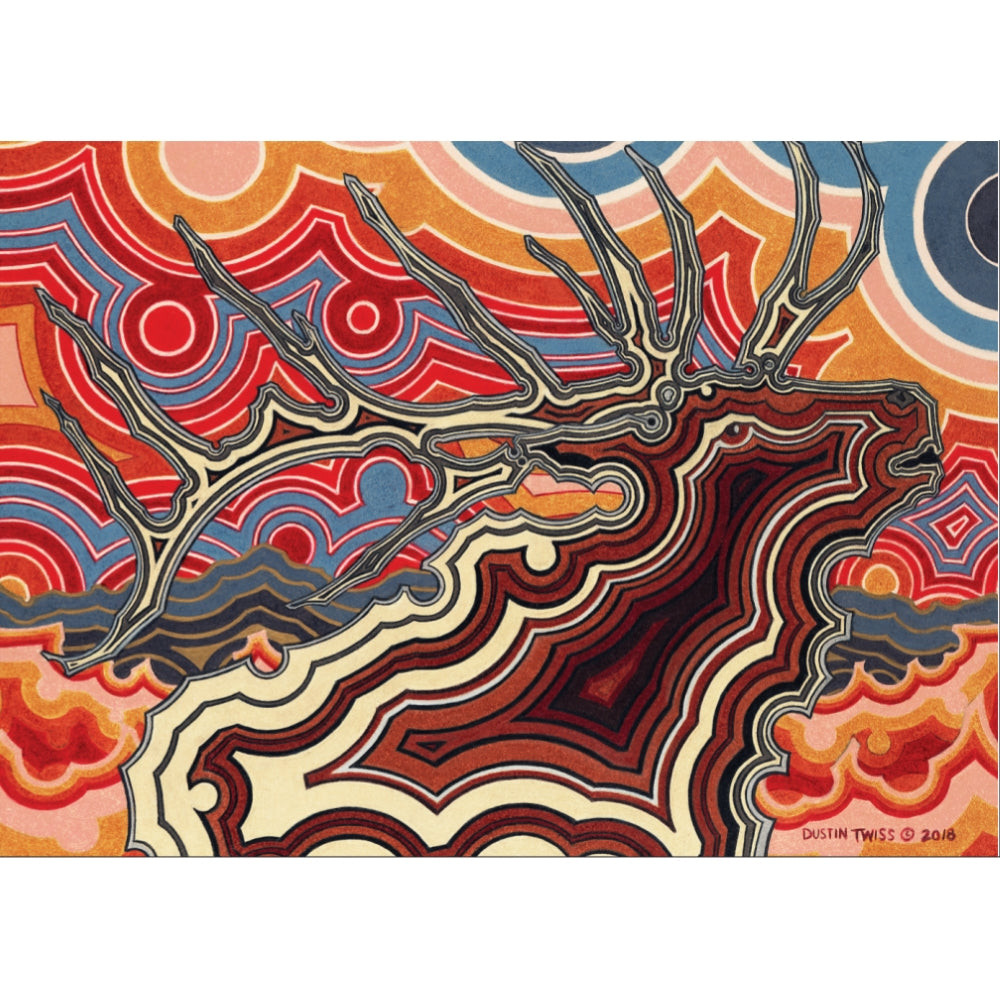 Giclée Prints & Notecards - Calling Bull
Giclée Prints
Calling Bull by Dustin Twiss in limited edition giclée prints on premium heavyweight, textured archival giclée paper with generous border perfect for framing!
Available in Full 14 x 18" and Half 7 x 9" sizes. Select size above.
Makes a beautiful, festive gift. 
Framing
Prints can be beautifully matted and framed just for you using conservation-quality materials. Contact Us to design your perfect mat and frame combination and we'll provide an image of how it will look, along with the quote. Please allow two weeks for custom framing.
Notecards 
5 x 7" notecards that are nice enough to be a gift in themselves feature the same high-quality reproduction on card stock and are packaged with an envelope in an acetate sleeve. Cards are blank inside with artist and design information on the back.
Elk - Heȟáka
A bull elk calls for his harem across the Badlands and into the Western sky. Elk only have two upper front teeth that do not deteriorate with time. Made of ivory, they are remnants of tusks from long ago. Elk teeth were a symbol of prominence on the plains and were often worn as jewelry or used in trade.  A Lakota woman wearing a nice elk tooth necklace might indicate a well providing husband or father.
The Badlands across the bottom depict Stronghold, Cuny and Red Shirt Tables. Stronghold Table rests high above the Badlands and only has one access point via Cuny Table.  A highly defensible position that offers distant vision, fresh water, game, wood and shelter, Stronghold Table was the destination of Chief Bigfoot's band when he was intercepted by the U.S. Military at Wounded Knee Creek.
On the horizon are the Black Hills and the highest point there, Black Elk's Peak. In the background captures the bold sunsets of the Badlands.