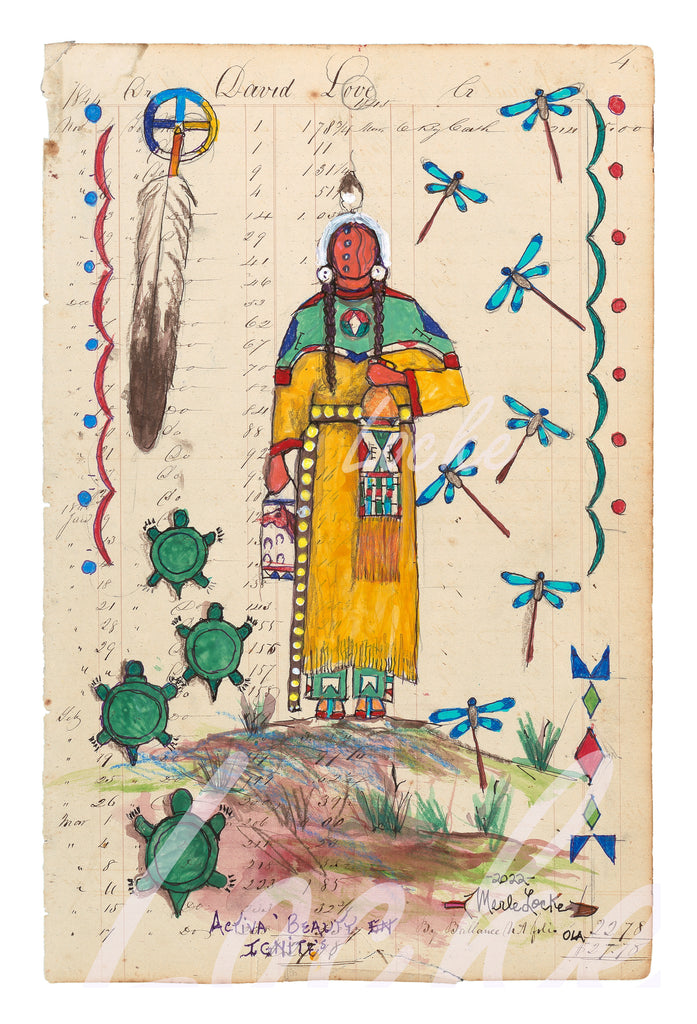 (Fine Art Print) Ledger Art - Activa ' Beauty Ignites
Seven Fires Art is pleased to offer this beautifully executed piece by Lakota Artist Merle Locke:
Activa ' Beauty Ignites
Original Ledger Art on very old sheet of ledger paper with the heading "1846 David Love, Merle has painted a woman with some interesting features: Locke has painted white around her head and the parfleche she carries has unuqual designs.
Painted during or shortly after a hospitalization for serious illness, this beautiful piece represents some amazing perseverance.
Signed  Merle Locke OLA and dated 2022. Non-standard 12.5" x 8" size. Unframed.  
Prints: The original painting has been sold. This image is available in limited-edition, high-quality giclée prints on archival matte paper with a 1" border. 
Framing: Archival-quality framing is available for prints and originals. Please contact us to design your perfect frame and mat combination. 
Original includes artist photo and bio.
The artist receives a royalty for each print made. Watermark "Locke" is added for security and is does not appear on the original or prints. Copyright remains the property of the artist. Reproduction of any type without the consent of the artist is expressly forbidden.
Watch a video of Merle discussing his art.