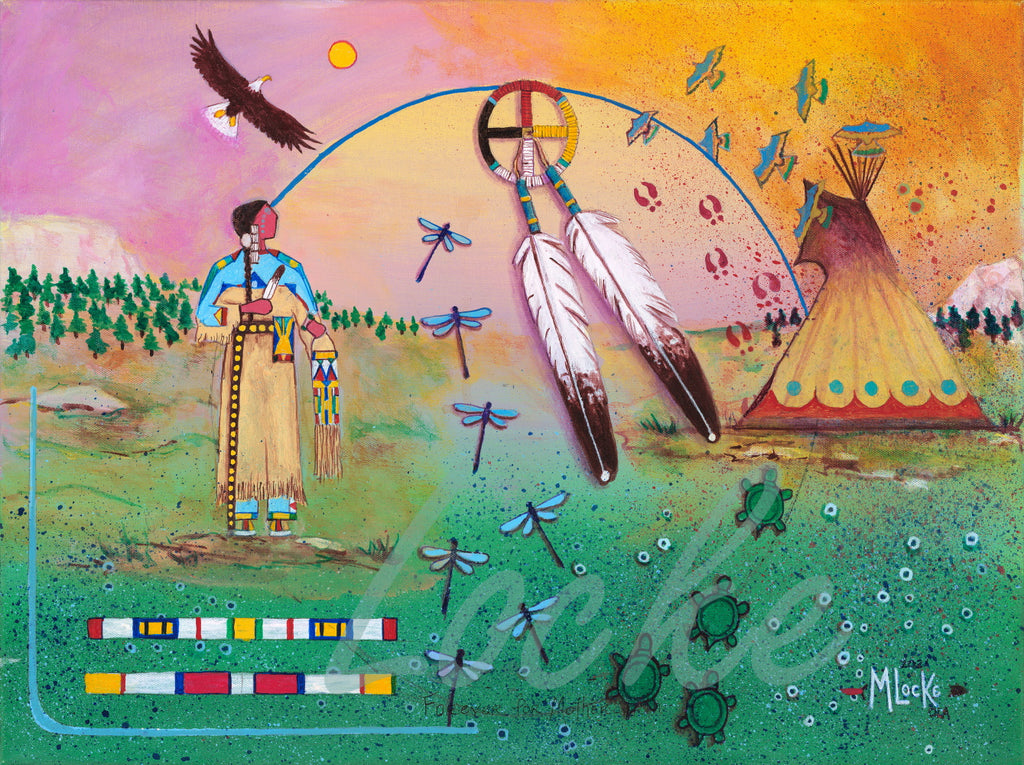 Original Acrylic on Canvas - Forever for Mother
Seven Fires Art is pleased to offer for sale this especially fine work by noted Lakota Artist Merle Locke!
Forever for Mother
In this "female scene" as Merle calls them, a winyan (woman) looks across the horizon at her home and tipi. An eagle graces her figure and she carries a feather along with a traditional parfleche bag. The parfleche design is repeated below her in strips that record parfleche history. Dragonflies, turtles and blue birds are all a part of her dreamy world. 
Signed M Locke OLA and dated 2021.
24"x 18" acrylic on canvas. Unframed.
Prints: Prints are also available. A high resolution scan is used to produced fine quality giclée prints on premium canvas textured art stock in the same size as the original, with a generous 1" border for framing. Select Print Above.
Framing Available: Originals and prints can be beautifully framed just for you using conservation-quality materials. Contact Us to design your perfect mat and frame combination and we'll provide an image of how it will look, along with the price. Please allow two weeks for delivery.
Original includes artist photo and bio.
Please be sure to check out our other offerings by Merle Locke!
The artist receives a royalty for each print made. Watermark "Locke" has been added for security and is does not appear on the original or prints. Copyright remains the property of the artist. Reproduction of any type without the consent of the artist is expressly forbidden.
Colorful Plains Indian Sioux fine art from the Porcupine District of the Pine Ridge Reservation suitable for man or woman gift or interior design decor.