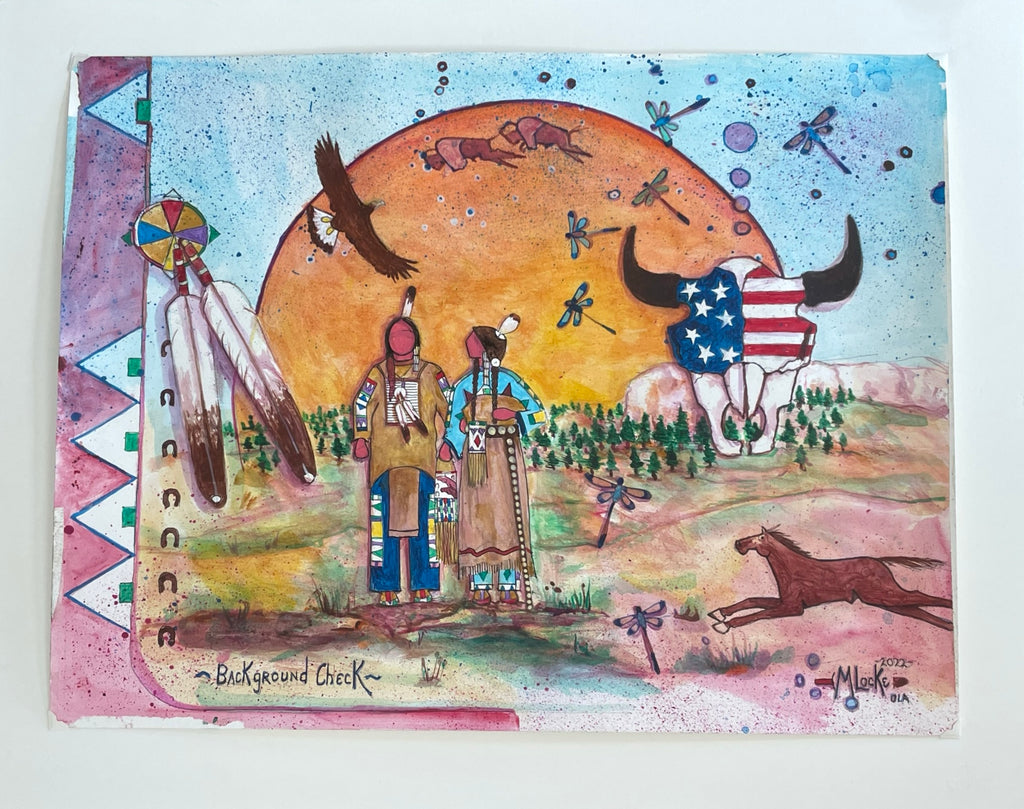 Original Acrylic on Paper - Background Check
Seven Fires Art is pleased to offer for sale this work by noted Lakota Artist Merle Locke!
Background Check
Merle says, "These days on the Pine Ridge reservation, a background check is done when someone applies for a job. This painting represents a background check of our ancestors, and it reveals the history of how we were, noble and living a good life. The couple is highly decorated, showing they were well-established and skilled. The buffalo skull painted with the American flag is a recognition of our ancestors who were Veterans and answered the call to serve the country. The horse represents the wealth of the woman's family. I wanted to put a lot of detail into it, to show the abundance of living in the old ways."
This especially detailed piece is signed M Locke OLA and dated 2022.
18" x 24" ink and acrylic on heavy paper. Unframed.
Prints: Prints are not planned for this piece.
Please Note: These are quick photos, not the high resolution scans we usually use in product listings. Quality of the image is not as good - art quality remains the same!
Framing Available: Originals can be beautifully framed just for you using conservation-quality materials. Contact Us to design your perfect mat and frame combination and we'll provide an image of how it will look, along with the price. Please allow two weeks for delivery.
Please be sure to check out our other offerings by Merle Locke!
Colorful Plains Indian Sioux fine art from the Porcupine District of the Pine Ridge Reservation suitable for man or woman gift or interior design decor.