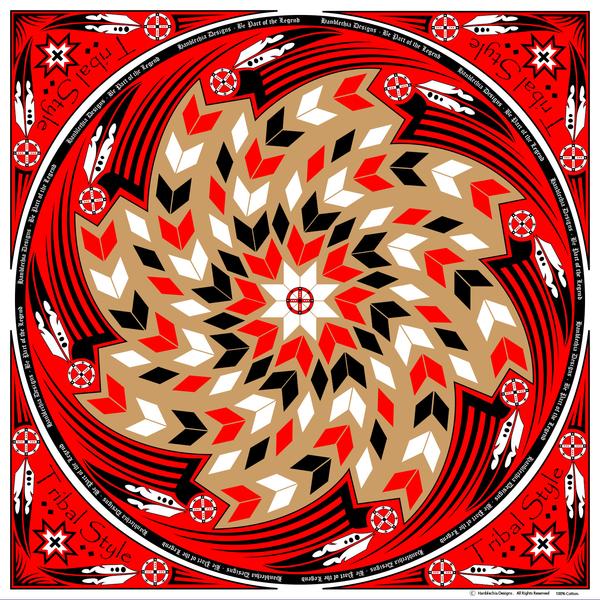 Wind Spirit Bandana
100% High Grade Cotton  – The more you wash it, the softer it gets. Hand wash in cool washer.
Long Last Print – Vibrant design lasts through many washes.
Generous 56cm x 56cm (22" x 22") Size 

– 

Just the right size to wear around your neck or head.
Significance

– 

 Add meaning to your wardrobe. Each design is inspired by Native American stories handed down through generations. 
Free Shipping!
Long ago, when the earth was still young, Ite, the wife of Tate (the Wind) had given birth to four sons (the Four Winds). Because of Ite's misdeeds, the Great Spirit banished her and commanded that her four sons go out into the Earth, to establish the four directions. Tate placed his lodge in the center of the world and waited for his sons to return. As time passed, each of the four brothers explored their part of the earth, and Tate stayed at the center of the earth, counting the moons for their return. When twelve moons had passed, the brothers returned to the center of the earth, where the Great Spirit gave each brother one of the directions they established. This created the four seasons, four directions and the yearly cycle, the establishment of Native American life and connection to the sacred circle. This design represents the journey the Four Winds (brothers) took to establish North, South, East and West, and Tate (their father) waiting for their return in the center.
Artist's Statement on the Wind Spirit Red Bandana:
"The Wind Spirit design was in the works while I was visiting my elderly Aunt and Uncle. I have mentioned these two before, and need to emphasize again how knowledgeable they are. As with many of my designs, I have something in my head and then hear a story days later that fits perfectly. It gets windy here in South Dakota, and I wanted to replicate this movement, the organized chaos of the invisible wind. I had then heard the story about the Four Directions and how they came about. This seemed to fit this design, it gives vision to what we cannot see, but can feel and see the effects of: The Wind." ~Melvin War Eagle
Please Note: Bandanas are made in China.