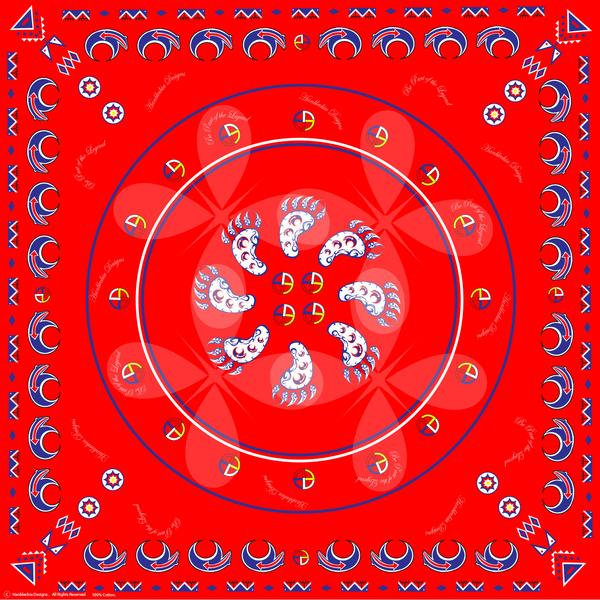 Bear Spirit Bandana
100% High Grade Cotton  – The more you wash it, the softer it gets. Hand wash in cool water.
Long Last Print – Vibrant design lasts through many washes.
Generous 56cm x 56cm (22" x 22") Size 

– 

Just the right size to wear around your neck or head.
Significance

– 

 Add meaning to your wardrobe. Each design is inspired by Native American stories handed down through generations. 
Free Shipping!
Lakota People believe that the Bear had great power and strength. It is understood that the Bear Spirit (who is of the tobtob: good spirits) and his great wisdom was able to protect the people. The Bear Spirit is responsible for giving the people medicine to heal their sick. When the Bear Spirit visits the people, some tribes would paint their tipis with a large bear wrapped around it, calling it the Hugging Lodge. (To give it the name Bear Hugging Lodge was forbidden, for the bear was held in such high esteem its name could not be uttered.) This provided the family protection and health. The Bear Spirit in this design provides the wearer with strength, wisdom and good health. The red arrow going through the bear's mouth was given to the dreamer, indicating the exact place where the Spirit Bear holds its wakan (sacred) power.
The Artist Statement on the Bear Spirit Bandana:
"The Bear Spirit Bandana was something I wanted to do for a number of friends of mine going through health problems. I never knew much about the old views on the Bear Spirit but found the elder's knowledge on this interesting. When I realized the connection between the Bear's power and healing, I wanted to design a piece that gave people the courage to fight and survive. I made a Red Bandana, because to the Lakota, red is a sacred color. The bear design around the edge has an arrow through it, indicating the spirit, the energy source itself." ~Melvin War Eagle
Please Note: Bandanas are made in China.