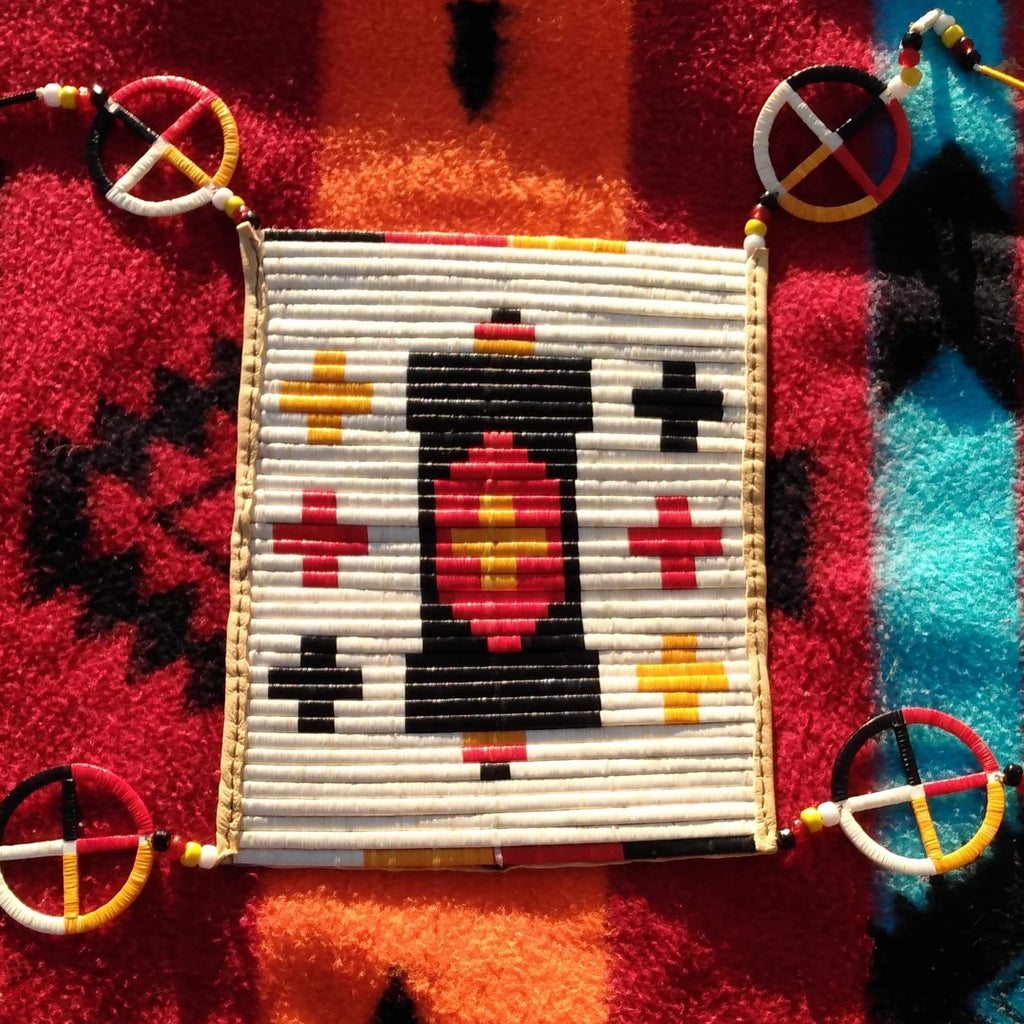 Red Cloud Quillwork - Breastplate ~ Seven Stars
Authentic Oglala Lakota Quillwork Breastplate ~ Seven Stars
Beautifully dyed quills woven onto natural parfleche.
Expert traditional quillwork by Avery Red Cloud.
Men's traditional sized fully quilled breastplate with a unique Seven Star design. The seven stars represent the four directions of north, south, east and west, as well as the heavens above, Unci Maka or Mother Earth below, and with the center star representing you, or the spirit of each individual, as the seventh direction. The center star, the bright star, is set in a keya or turtle design as the keya represents long life and a strong heart.
The seven stars are also intended to represent the Star People, the Lakota Oyate. Within traditional Lakota Star Knowledge is the story of how the stars give a spirit to a person at birth and when they die, that spirit returns to the stars.
The shape of the center design Is also symbolic of the Black Hills, Paha Sapa, the center of life for the Lakota Oyate; the place where the Oyate emerged from Wind Cave. The medicine wheel belt and neck tie represent world unity, as people of every nation are part of the circle of life, in Lakota: MItakuye Oyasin, we are all related. 
Traditional 8" x 10" size with eight 2 1/2" traditional medicine wheels forming the belt and neck tie. White background with black, red and yellow; the traditional colors of the Lakota medicine wheel. Quills are woven over parfleche, attached to felt, then finished with elk hide trim and backing.
Of the nearly 200 hours required for this work, the artist says, "many hours over a half year of good feelings and prayers went out into it."
Oglala Lakota quillwork artist Avery Red Cloud is a sixth generation descendant of Chief Red Cloud...

  

...his art is an answer to a humble prayer, "to create hope and development among the Oglala Oyate." 

Oglala Lakota quillwork artist Avery Red Cloud is a sixth generation descendant of Chief Red Cloud (1822-1909). Avery's early life was spent in California with his family until he moved back to Pine Ridge to live with his grandparents Bernard and Christine Red Cloud at the age of 10.

Avery learned the art of quillwork by observing his grandparents and before too long was helping with their small business. Over time, he took the qualities of the designs he liked most and changed them, perfecting his unique style and bringing him to the forefront of contemporary quillwork artists. Like many forms of art among the Lakota people, Avery's entire family helps create quillwork and pass down the tradition to the next generation. Avery is inspired by the way quillwork shows the talents of the Oyate and says his art is an answer to a humble prayer, "to create hope and development among the Oglala Oyate." Avery is a single father of four young daughters and lives in Oglala, South Dakota.

Avery's work can also be found in his Etsy shop