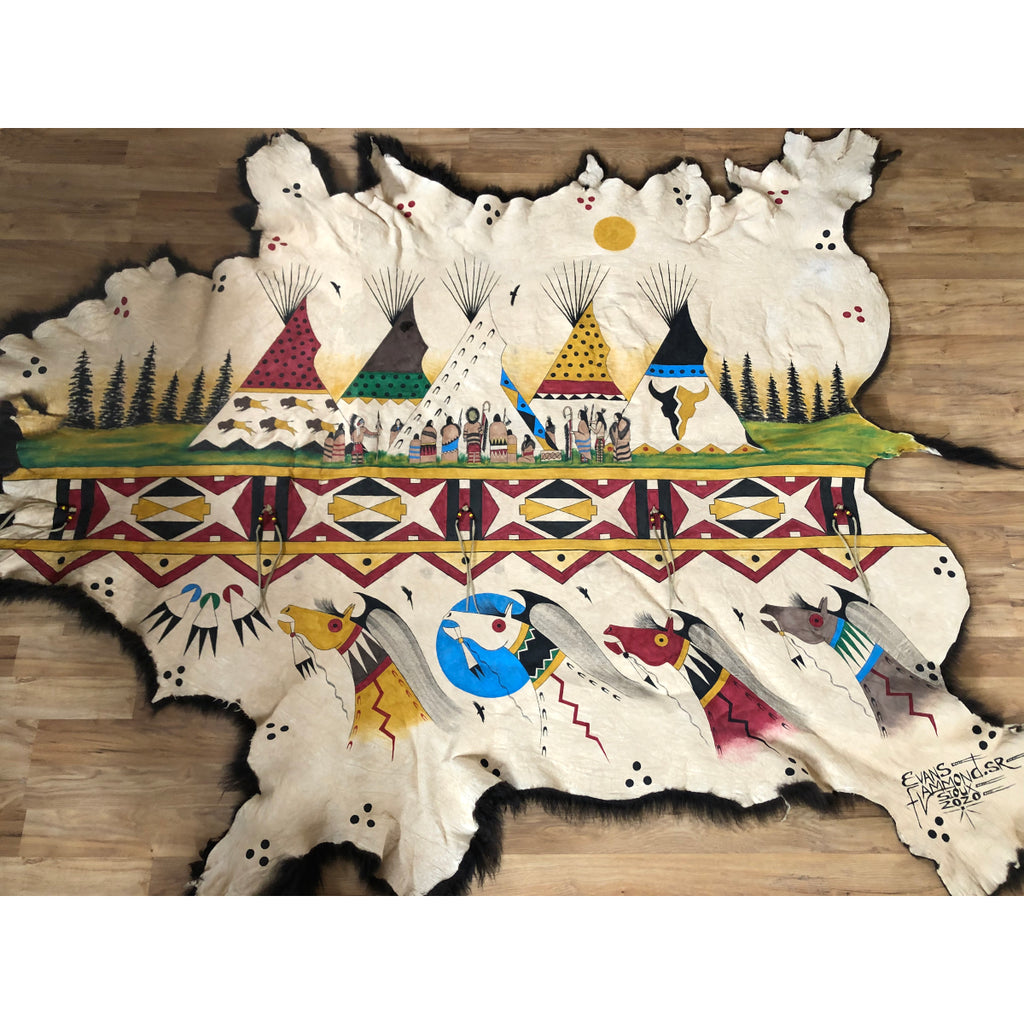 Prayer to the Four Directions
2020 work of art on a very large bright white premium buffalo hide that has been prepared especially for painting and hand-selected by the artist. 
~ Buffalo Robe: Prayer to the Four Directions ~
Original contemporary Native American art by Evans Flammond Sr.
Working carefully for exacting detail, the artist creates an early morning scene; a Gathering of Prayer. 
Beginning with the specially selected hide, this entire piece is centered around the buffalo. As Flammond says,
"It all starts with the buffalo, this very buffalo that has given its hide. Without the buffalo, this work of art would not exist. Without the buffalo, we would not exist." 
Hailstones represent how the buffalo roamed the continent by the millions. The horses are ready for the hunt: Lighting bolts represent speed of the horses and the circles around their eyes give them keen vision. The blue moon represents the successful buffalo hunt. Horse tracks represent the number of each successful buffalo hunts the warrior has experienced, like notches in a belt.
Since traditionally, buffalo hides were used for the tipi covers, Flammond adds a yellow morning mist behind the tipis, allowing him to leave the hide unpainted at the base of the tipis, to emphasize their origin. And each tipi is painted with a different buffalo theme. The parfleche design across the center of the piece links us to the past and  represents the provision of sustenance for the future. 
Using earth paint only, the main colors used by the artist are the traditional colors of the four directions, with the colors of turquoise, pipestone, and of the prairie added throughout in a canvas technique, difficult to produce on leather. Application of the earth paints also requires special skill and additional time.

For the artist personally, the piece has significant meaning and represents a return to art following a period of mourning, retrospection and preparation for rebirth and growth personally and artistically in the new decade.
While Flammond Sr has painted dozens of buffalo hides since 1999, Seven Fires is proud to have partnered with him on this profound piece, giving him time and license to create an especially masterful work he has dreamed of for some time.
A portfolio of hides by Flammond can be viewed at www.dreamhorsecreations5150.com.
Earth paint on buffalo hide with beaded leather tassels.
8' x 8' 4"