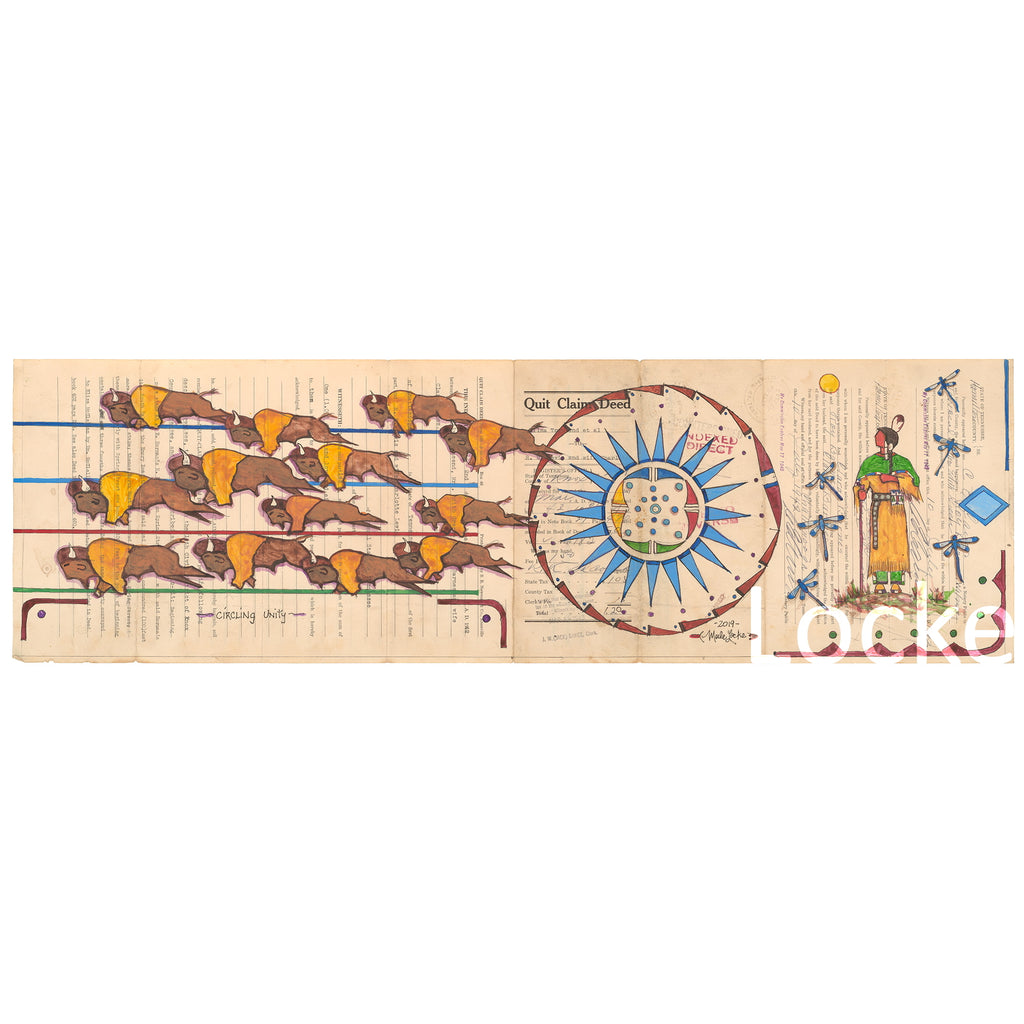 Original Ledger Art ~ Quit Claim Deed / Circling Unity
Seven Fires Art is honored to have sold this interesting work of Ledger Art by Lakota Artist Merle Locke.
Quit Claim Deed / Circling Unity
A very nice piece signed dated 2019 on an odd-shaped document, a Quit Claim Deed signed in Chattanooga, Tennessee in 1942. 8.5" x 28". 
The number seven is repeated throughout this piece.

Merle says the buffalo represent the 7 bands of the Lakota and the 7 Sacred Lakota Rites (Sundance, Vision Quest, Throw the Ball …).  (He may have miscounted as there are only 13 buffalo.)
Her dress green to represent the earth coming alive. The color green, of course, representing hope. The dragonflies – almost always present in Merle's work, also represent hope as well as prosperity. They also represent resiliency or the ability to move away easily from any harm.
There are 21 points in the central circle, 3 x 7, sacred numbers to the Lakota.
The 15 dots in the center represent the new generation coming up.
The central design also contains a cross image as well as a medicine wheel in the inconic "Merle" colors of hope green, spirit world blue, full sun yellow and all-lives red.
The full sun is also almost always present in Merle's paintings. It is included in remembrance of the Battle of the Greasy Grass, otherwise known as Battle of the Little Bighorn and Custer's Last Stand. The battle was an overwhelming victory for the Lakota, Northern Cheyenne, and Arapaho, however, it resulted in the US Government cracking down on Indians who hadn't yet surrendered to the agencies, and so it was also in reality a terrible turning point for the Lakota Nation.
Merle is one of the most recognized Oglala Lakota artists working today! 

Watch a video of Merle discussing his art.