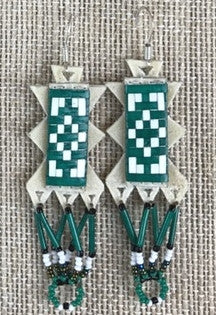 Quilled and Beaded Parfleche Earrings
Original design based on historical records: Mr Horse Road's exquisite quillwork on parfleche with beaded fringe. 
Ear wires are sterling silver. Approximately 2.75" length including earwires.
Each pair is unique and will vary slightly. Please select colors above.
Tony Horse Road is a living treasure; a historian of Oglala art and culture! 
Signed, original, unique Oglala Lakota Sioux Native American art.