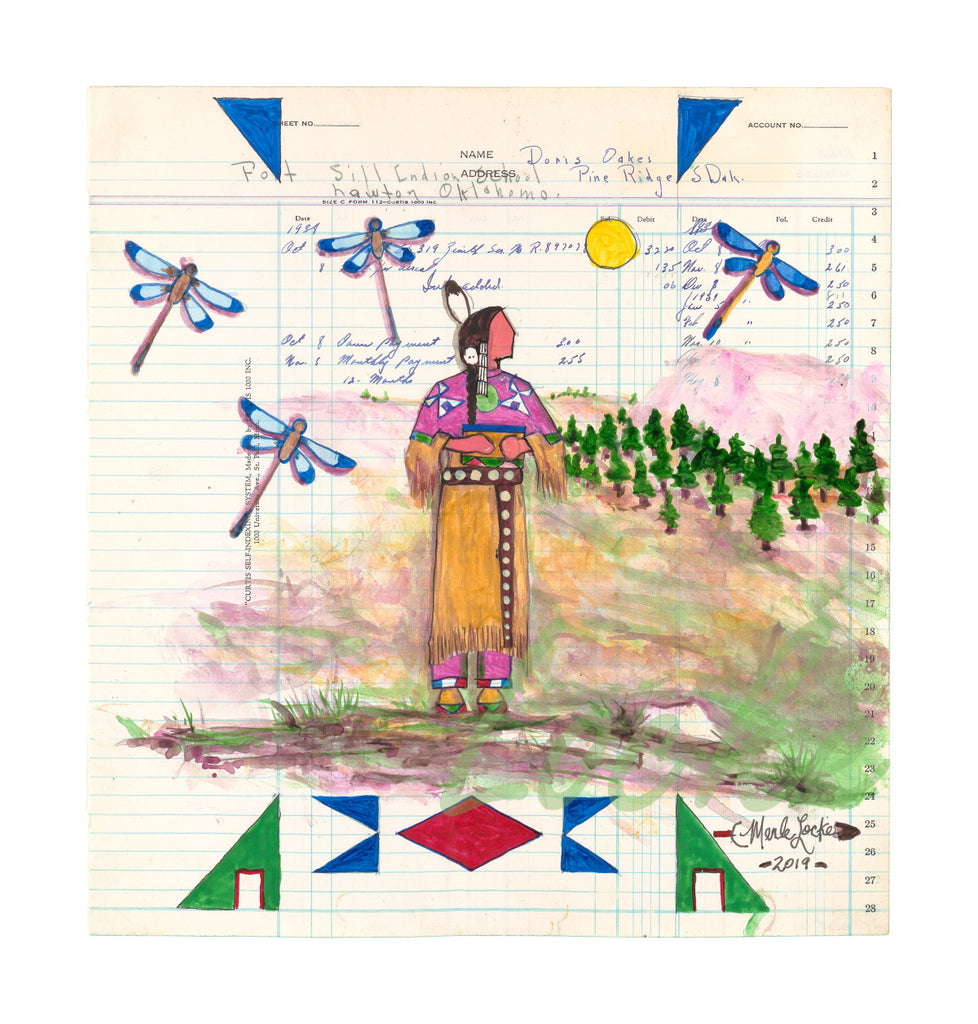 (Fine Art Print) Ledger Art - Untitled / Doris Oakes
Seven Fires Art is pleased to offer this pretty piece by Lakota Artist Merle Locke:
Untitled - Doris Oakes
Original Ledger Art on ledger paper dated 1934 with two headings: Doris Oakes, Pine Ridge S Dak. and Fort Sill Indian School, Lawton, Oklahoma and showing purchase of and payments for a 5-S-319 Zenith radio (see photo). Here, Merle has painted yet another version of his Lakota Winyan, this time holding a parfleche box and looking out over the hills. WIth this portrayal of the woman guarding something she is keeping in the box, Merle is often remembering the children who were taken from their homes and families to boarding schools. Given the second heading on the paper, that is likely Merle's intention with this piece; she is awaiting their return. The familiar Porcupine district hills and trees form the backdrop.
Note: The second heading, written in pencil, is not written in Merle's hand; it appears to be the same handwriting as the Doris Oakes heading that is written in pen, but it is unclear why it is there or when it might have been added.
This piece is signed Merle Locke and dated 2019. 10.5" x 11.25". Unframed.  
Prints: The original painting has been sold and prints are available. A high-resolution image is used to create limited-edition, high-quality giclée prints on archival matte paper with a 1" border. 
Framing: Archival-quality framing is available for prints and originals. Please contact us to design your perfect frame and mat combination. 
Original includes artist photo and bio.
The artist receives a royalty for each print made. Watermark "Locke" is added for security and is does not appear on the original or prints. Copyright remains the property of the artist. Reproduction of any type without the consent of the artist is expressly forbidden.
Watch a video of Merle discussing his art.