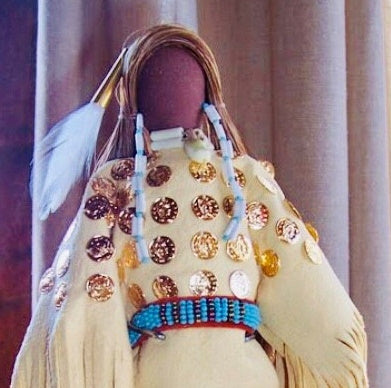 Walks with the Sunset
Walks with the Sunset is dressed for her coming of age ceremony. She wears her hair behind her shoulders, a sign of her still being a child in the Lakota culture. After the ceremony she will wear her hair in front of her shoulders and she will be available for courting. Her father says with her auburn hair, sunny disposition, inner and outer beauty she looks to him like she should Walk with the Sunset in her everyday life and have a bright and hopeful future ahead of her.
Dress is leather with all glass beads. Coin size may vary. Necklace is bone pipe and gold beads. Feather in tin cone in hair (feather varies). Earrings are white bugle and gold glass.
All dolls are made to order. Please allow 1-2 weeks for delivery.