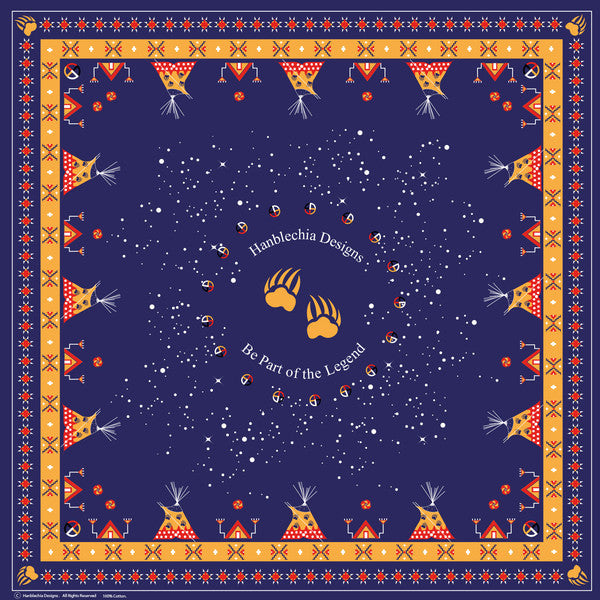 Tribal Gathering Bandana
100% High Grade Cotton  – The more you wash it, the softer it gets. Hand wash in cool water.
Long Last Print – Vibrant design lasts through many washes.
Generous 56cm x 56cm (22" x 22") Size 

– 

Just the right size to wear around your neck or head.
Significance

– 

 Add meaning to your wardrobe. Each design is inspired by Native American stories handed down through generations. 
Free Shipping!
The tipi was not just seen as a home, but had significant spiritual meanings. When erecting a tipi, three poles were used to anchor the structure, these representing the past, present, and future. Seven more poles are then placed in a circle around the first three anchor poles, moving clockwise. Each of these seven poles has a specific meaning, such as the Seven Brothers or the Seven Stars in the Big Dipper constellation. After ten poles are erected, the lodge covering is then put around this tipi structure, with additional two poles on the outside to regulate the flow of energy and to circulate the air inside the lodge. This makes a total of twelve poles used for the lodge, thereby representing 12 months in a year. The vortex, the point at which the poles are tied, connects us to the spirit world. The ancestors live in that spirit world in the upper reaches of the tipi; our ancestors are always with us. It represents the sacred circle or the never-ending cycle of life. The tipi embodies the understanding of the connection between the physical and the metaphysical realm. To live in it meant everything was in balance.
 Artist's Statement on the Tribal Gathering Bandana:
"In this design, I wanted to explain the tipi itself. Yes, it is a form of shelter from the elements, but I wanted to also get across its spiritual significance. Everything Native Americans did, and do today, is seen in a spiritual sense. This ties us to the spirit world while we are living in the physical." ~Melvin War Eagle
Please Note: Bandanas are made in China.