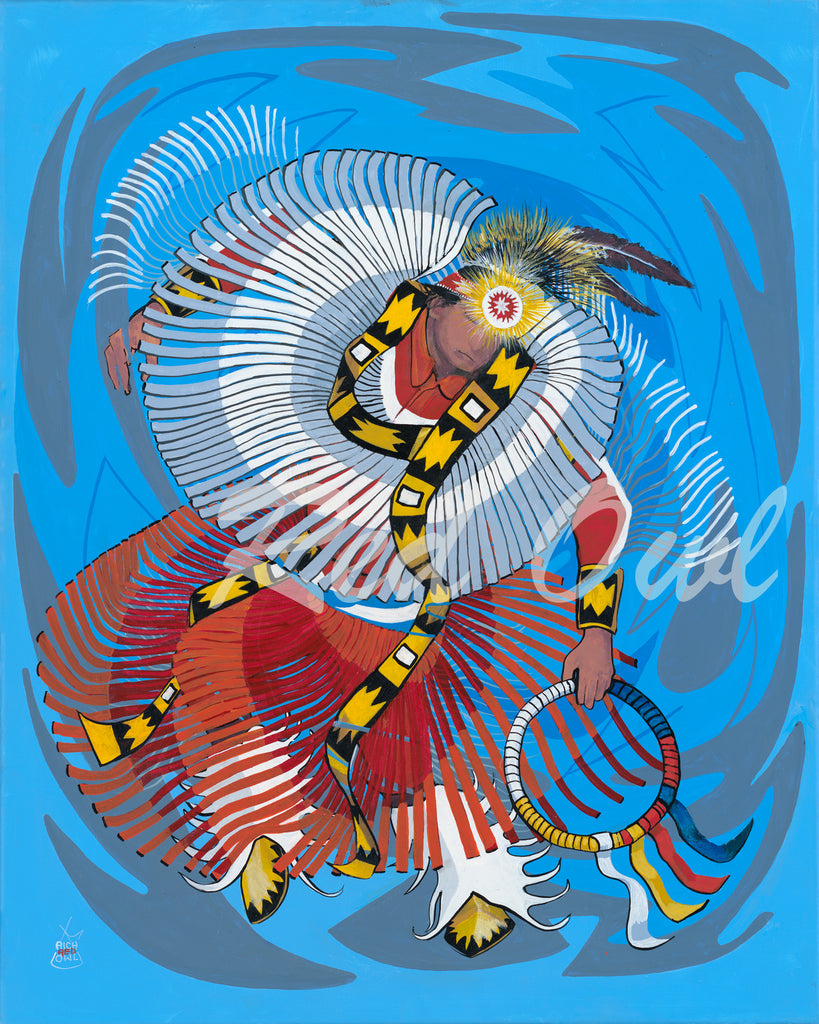 Original Acrylic on Canvas - Grass Dancer
Seven Fires Art is pleased to offer this acrylic on canvas by Richard Red Owl.
Grass Dancer
Ribbons are now often used instead of grass for the Grass Dancer's costume. This dancer has all his ribbons going perfectly together and he wears a black and yellow harness. This is Richard Red Owl's own version of the grass dancer; a fantastic example of his contemporary style.
30" x 24" signed Rich Red Owl.

Giclée Prints: We are very pleased to offer first edition prints of this piece, signed by the artist! Full-size giclée prints with beautiful color on heavy, textured hemp art stock with a generous border perfect for framing. Select Print above. Please allow two weeks for delivery.
Framing: Shown here, this majestic print a in a beautiful grey-washed solid cherry wood frame and generous off-white mat, framed with archival materials, acrylic glass, Lineco backing and hanging hardware. Finished size is 28.75x34.75". **Please allow 3 weeks.** Other options available, please inquire.
The watermark "Red Owl" has been added to protect copyright and does not appear in the original painting. Copyright remains property of the artist. Reproduction of any type without the consent of the artist is expressly forbidden.