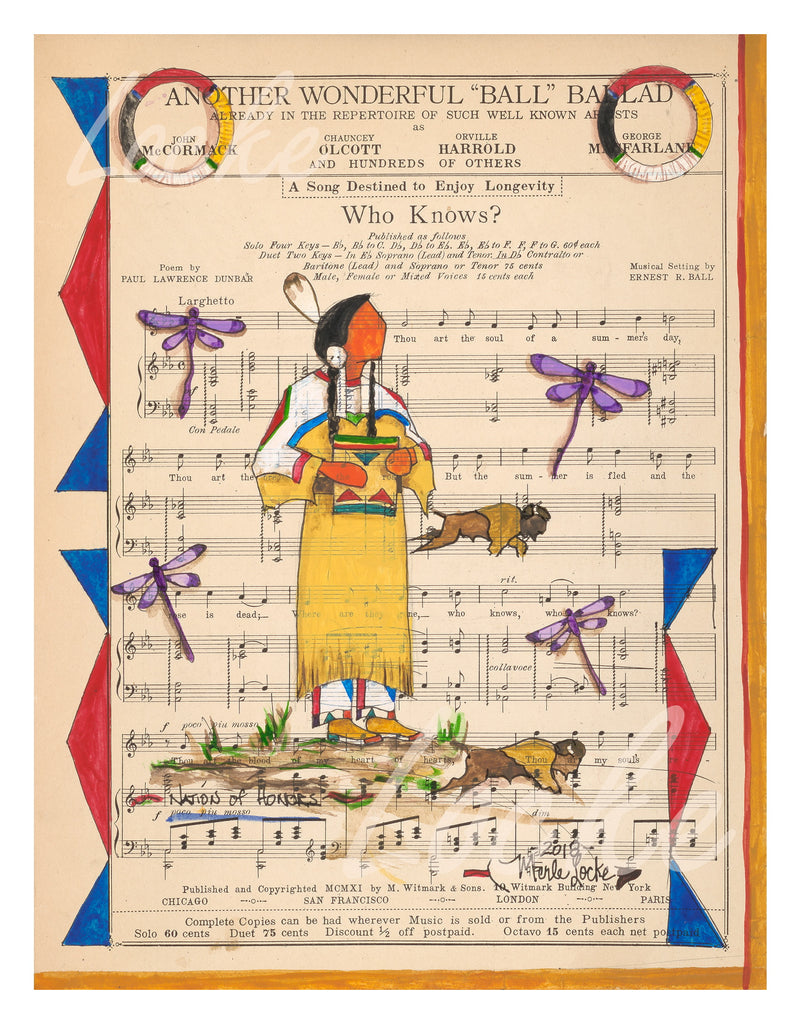 (Fine Art Print) Ledger Art on Antique Sheet Music ~ Who Knows? / Nation of Honors
Seven Fires Art is pleased to offer for sale this unique example of traditional Native American Ledger Art by noted Lakota Artist Merle Locke!

Who Knows? / Nation of Honors
A truly special and unique piece! Original, signed 13.5 x 10.5" ink and acrylic on  antique sheet music. Unframed.
Locke offers a different take on traditional ledger art with sheet music copyrighted 1911 to demonstrate the divide between Native and white culture. Native children in boarding schools often used sheet music or pages torn from hymnals to practice the painting and drawing taught to them by their parents.

Here, a winyan with traditional dress, surrounded by the dragonflies and buffalo of her homeland, looks to the distance, awaiting the return of her children who have been taken away from her to boarding schools. She holds a parfleche containing food she is keeping for their return, the score title 'Who Knows?' a poignant commentary on her sorrow.
Giclée Prints: This original work has been sold. We are pleased to offer limited edition prints of this piece. Full-size giclée prints with beautiful color on Fine Art Paper Velvet with generous 1" border perfect for framing. Select Print above. 
Framing Available: Prints can be beautifully matted and framed just for you using conservation-quality materials. Contact Us to design your perfect mat and frame combination and we'll provide an image of how it will look, along with the quote. Please allow two weeks for custom framing.
The watermark "Locke" has been added to protect copyright and does not appear in the artwork. Copyright remains property of the artist. Reproduction of any type without the consent of the artist is expressly forbidden.
Condition of the Original: No defects or scratches to the art or unusual wear and tear, although the antique music shows normal signs of wear and age.