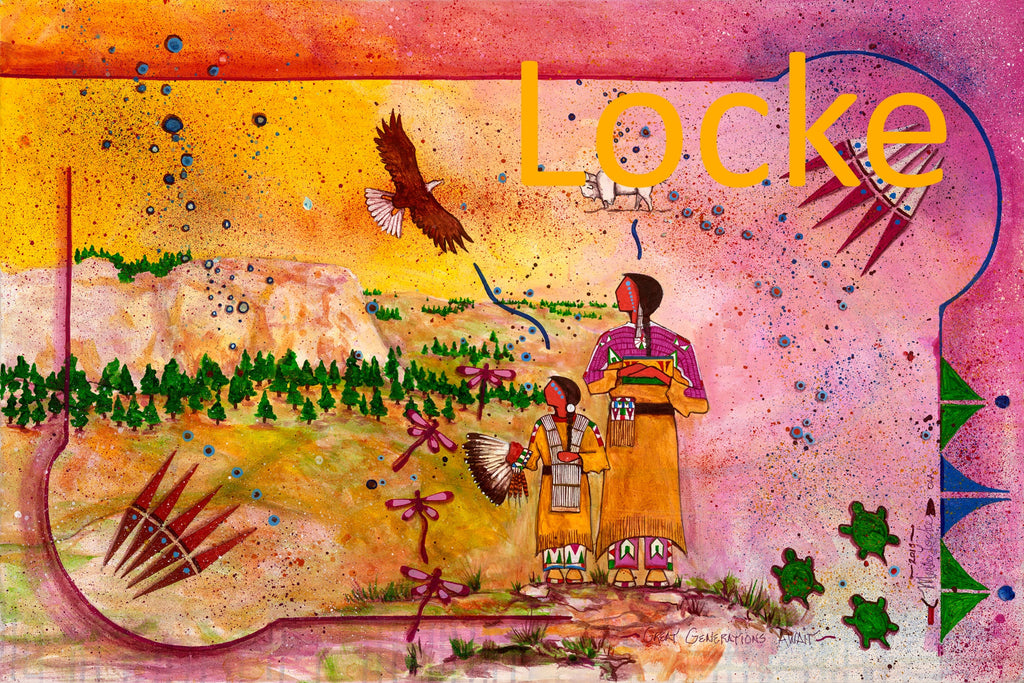 Fine Art Print - Great Generations Await
Seven Fires Art is very pleased to offer for sale this outstanding work by noted Lakota Artist Merle Locke!
Great Generations Await
Signed and dated 2015, the original 24"x36" acrylic on canvas stretched over wood frame - a truly spectacular piece - was sold by Seven Fires Art in 2017.  
Signed Prints: This work is available in a limited-edition, high-quality giclee print on archival fine art paper in the original large 24x36" size and signed and dated by the artist. The print is carefully protected on acid-free foam core in an acetate sleeve. Seven Fires Artists approve and receive generous royalties for every print made.
Unsigned Prints: This work is also available in the same high-quality giclee print in full 24x36" and half 12x18" sizes.
ONLY ONE SIGNED PRINT LEFT IN STOCK!   
FRAMING IS AVAILABLE; PLEASE INQUIRE!
An ingeniously-colored background range of blush, purple, orange and pink carries your eye around this dreamlike scene of the Pine Ridge, a beautifully-clothed mother and daughter, dragonflies, eagle and white buffalo spirits and other Native American imagery.

Please be sure to check out our other offerings by Merle Locke!

Artists receive a generous royalty for each print made. The watermark "Locke" is not part of the piece but has been added to protect copyright. Copyright remains property of the artist; reproduction of any kind without permission of both the artist and Seven Fires Art is expressly forbidden.