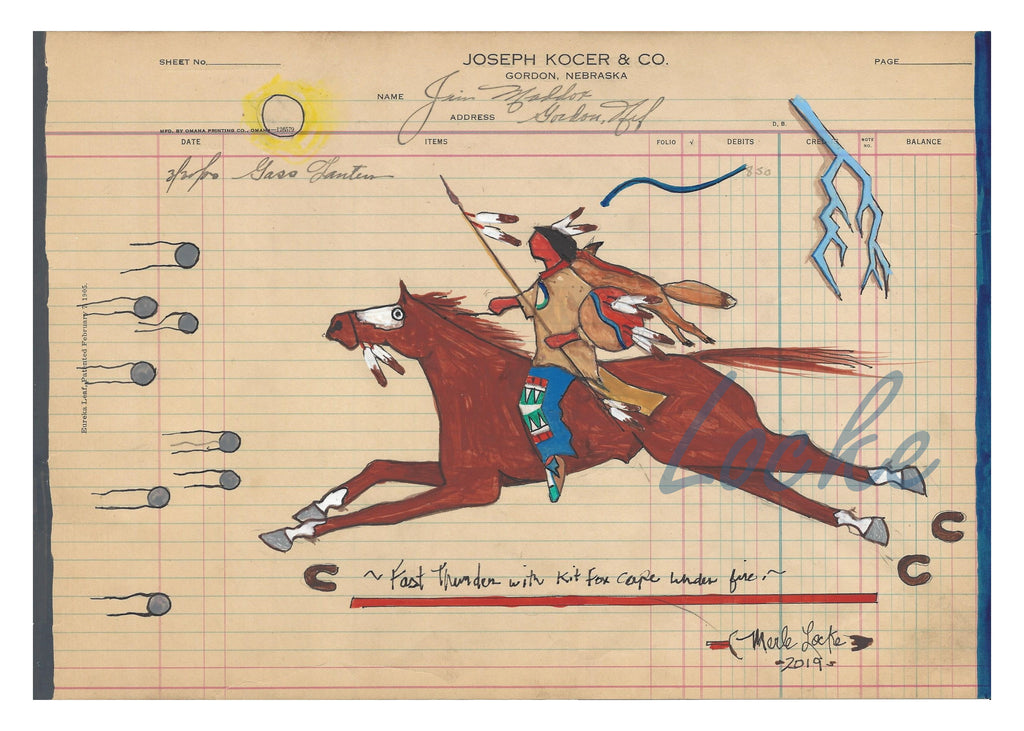 (Fine Art Print) Ledger Art - Fast Thunder
Seven Fires Art is pleased to offer this excellent example of traditional Ledger Art by noted Lakota Artist Merle Locke!
Fast Thunder with Kit Fox Cape Under Fire
This ink and acrylic on ledger sheet from Joseph Kocer & Co. of Gordon, Nebraska on the border of the Pine Ridge Reservation, signed Merle Locke and dated 2019, is a stunning example of traditional Native American ledger art. 
13" x 9" 
On the 20th of March 1900, a glass lantern was purchased by one Jim Maddox at Joseph Kocer & Co in the border town of Gordon, Nebraska. The juxtaposition of the purchase of the lantern, and the lightning spirit of the warrior, is indeed intriguing. His Kit Fox cape makes it really special.
Condition of the Original: In addition to usual wear shown on antique paper, this sheet has some additional tearing along the left-hand side. These tears have been digitally repaired for print reproduction.
Giclée Prints: This original work has been sold. We are pleased to offer limited edition prints of this piece. Full-size giclée prints with beautiful color on Archival Matte paper with 1" border perfect for framing. Select Print above.
Framing Available: Prints can be beautifully matted and framed just for you using conservation-quality materials. Contact Us to design your perfect mat and frame combination and we'll provide an image of how it will look, along with the quote. Please allow two weeks for custom framing.
The watermark "Locke" has been added to protect copyright and does not appear in the artwork. Copyright remains property of the artist. Reproduction of any type without the consent of the artist is expressly forbidden.
Merle is one of the most recognized Oglala Lakota artists working today! 
Watch a video of Merle discussing his art.