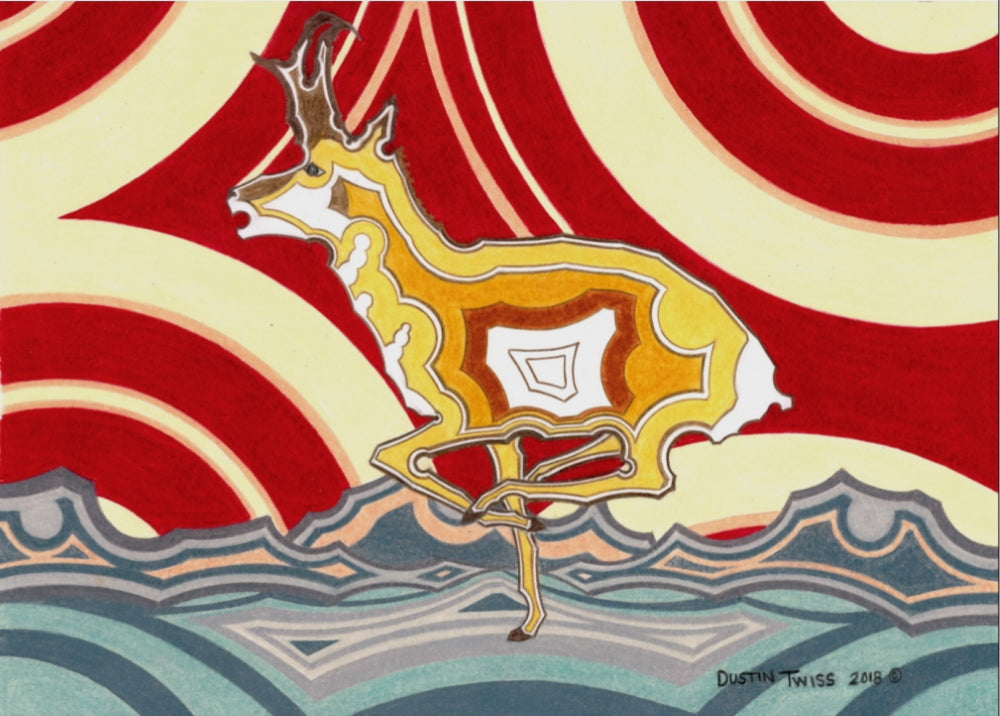 Giclée Prints & Notecards - Pronghorn Basin
Giclée Prints
Pronghorn Basin by Dustin Twiss in limited edition giclée prints on premium heavyweight, textured archival giclée paper with generous border perfect for framing!
Available in Full 11 x 14" and Half 5.5 x 7" sizes. Select size above.
Framing
Prints can be beautifully matted and framed just for you using conservation-quality materials. Contact Us to design your perfect mat and frame combination and we'll provide an image of how it will look, along with the quote. Please allow two weeks for custom framing.
Notecards
5 x 7" notecards that are nice enough to be a gift in themselves feature the same high-quality reproduction on card stock and are packaged with an envelope in an acetate sleeve. Cards are blank inside with artist and design information on the back. 
Antelope - Tȟatȟóka
Represents speed, endurance and vision.
The Pronghorn antelope is mysterious and keeps to himself.  It is said that if a lone antelope stands outside of camp looking in, a message from the spirits awaits.
Antelope were once a staple food on the prairie. Like the buffalo, great herds once roamed the landscape, but the entire population of the second fastest animal in the world that had evolved in North America for over 20 million years was nearly hunted to extinction by humans during the 1800's.