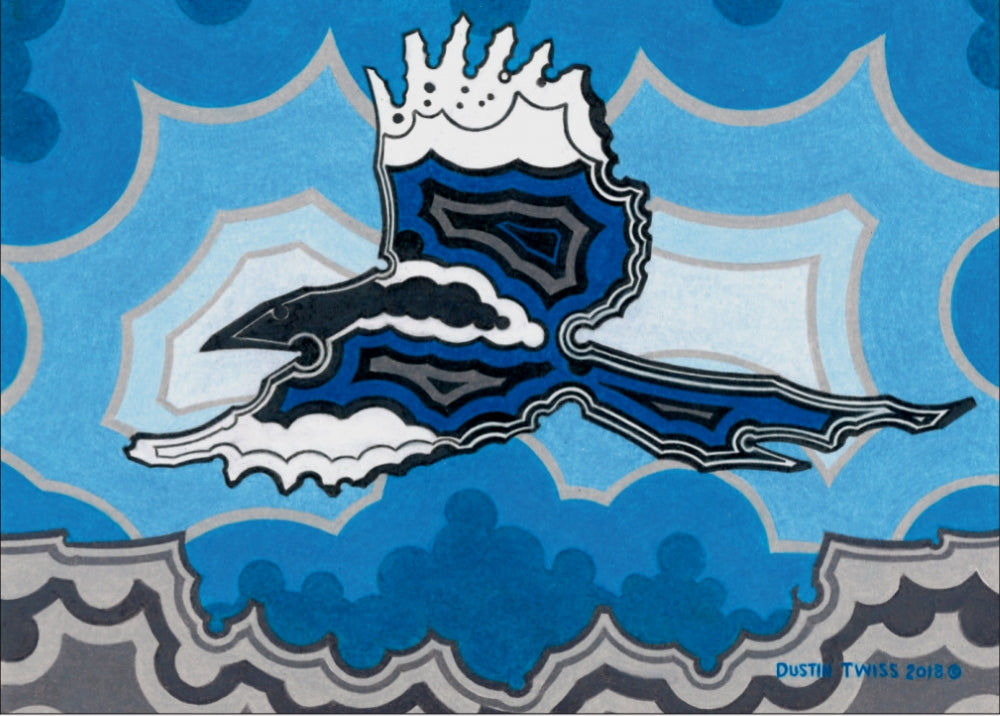 Giclée Prints & Notecards - Prairie Magpie - Uƞkčékhiȟa
Giclée Prints
Prairie Magpie by Dustin Twiss in limited edition giclée prints on premium heavyweight, textured archival giclée paper with generous border perfect for framing!
Available in 11 x 14" and 5.5 x 7" sizes. Select size above.
Makes a beautiful, meaningful gift for many occasions. 
Framing
Prints can be beautifully matted and framed just for you using conservation-quality materials. Contact Us to design your perfect mat and frame combination and we'll provide an image of how it will look, along with the quote. Please allow two weeks for custom framing.
Notecards
5 x 7" notecards that are nice enough to be a gift in themselves feature the same high-quality reproduction on card stock and are packaged with an envelope in an acetate sleeve. Cards are blank inside with artist and design information on the back.
Magpie -
 U
ƞkčékhiȟa
The magpie claimed victory for the two-legged creatures over the four-legged creatures in the Great Race. This race was devised to establish order among the creatures of Grandmother Earth.  The bear would be the judge of this race as he walked on both two and four legs.
The race was held in the Black Hills and each species sent their finest racer. Among the racers was a young Lakota boy who wanted to put an end to the torment his people suffered from the buffalo across the plains. The race began and the buffalo charged to an early lead. Eventually, most of the racers became exhausted.  The Lakota boy, in second place behind the buffalo, began to tire as the race drew to an end.  Hope for the two-legged seemed to be lost as the buffalo made a strong charge for the finish after leading the entire way.  But just before the buffalo came to the finish line, the magpie swooped down and crossed the finish first.
The buffalo accepted defeat. The two legged would rule the landscape and the buffalo would help to provide for the others. The buffalo asked, "How will we survive?" The Lakota answered, "We will teach you how to thrive on the grasses of the prairie instead of on us."  This is how the buffalo became selective grazers and the providers of the prairie.