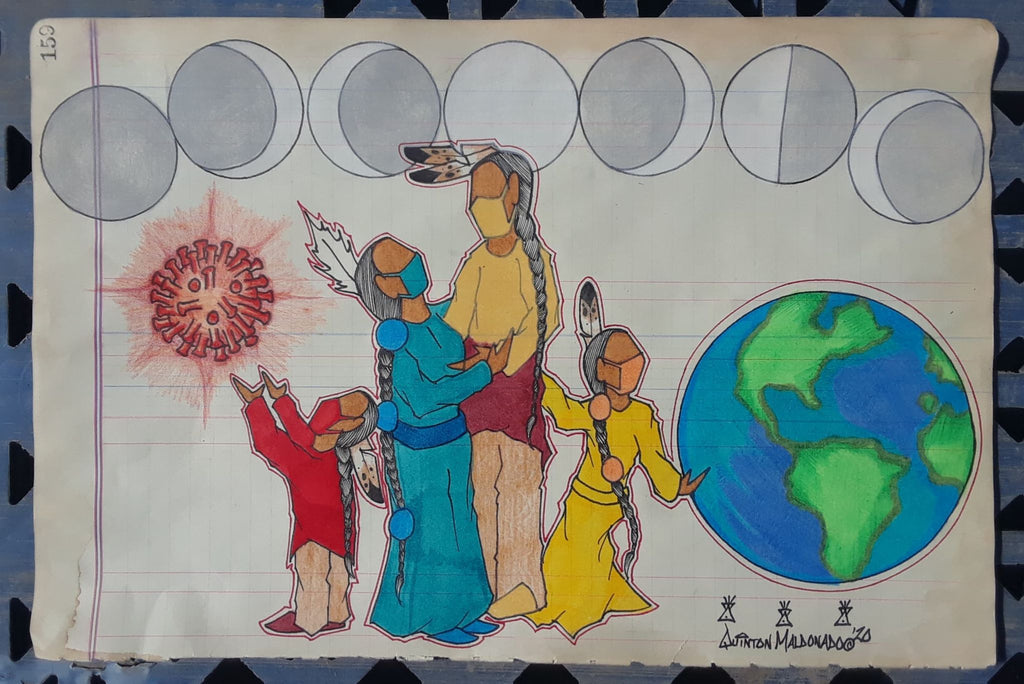 Chey'Yaka Ognaka
Seven Fires Art is pleased to offer contemporary Ledger Art by Quinton Maldonado.
Chey'Yaka Ognaka (Bring Back to Life)
A current statement, a quintessential piece on antique ledger paper signed and dated '20 by the artist. 
Maldonado brings the social protest of ledger art to now.
Exact size unknown. Unframed.   
Notes from the Artist about this piece:

The 7 phases of the moon represent the 7 months of Covid-19 thus far. Hence, Jan-Aug = 7 months.
The lines around the figures indicate the embodiment of everything that is 'one' within self: Mind, Body, Spirit, Creator. Also it represents continuous life; no beginning and no end.
The ledger book/[page utilized for this piece is from the year 1897 from Deadwood/Lead, SD Black Hills Milling and Mining Company, with watermark.
Feathers in women's hair was an indication of stature in the villages of Lakota Society and certain marriages.
During 1918-1920, a much similar pandemic known as Spanish Flu plagued Lakota Country. A holistic approach using traditional herbs and plants helped find success in warding off the Flu, by making tea from the seeds (blue round) of Cedar trees known as Chey'Yaka Ognaka, which translates to 'bring back to life'. Covid-19 is today referred to a Chey'Yaka Ognaka.
Originals are protected using acid-free corners on acid-free foam core and sealed in an acetate sleeve. Prints are packaged individually in protective acetate sleeves.
Maldonado is one of the most recognized Oglala Lakota artists working today!