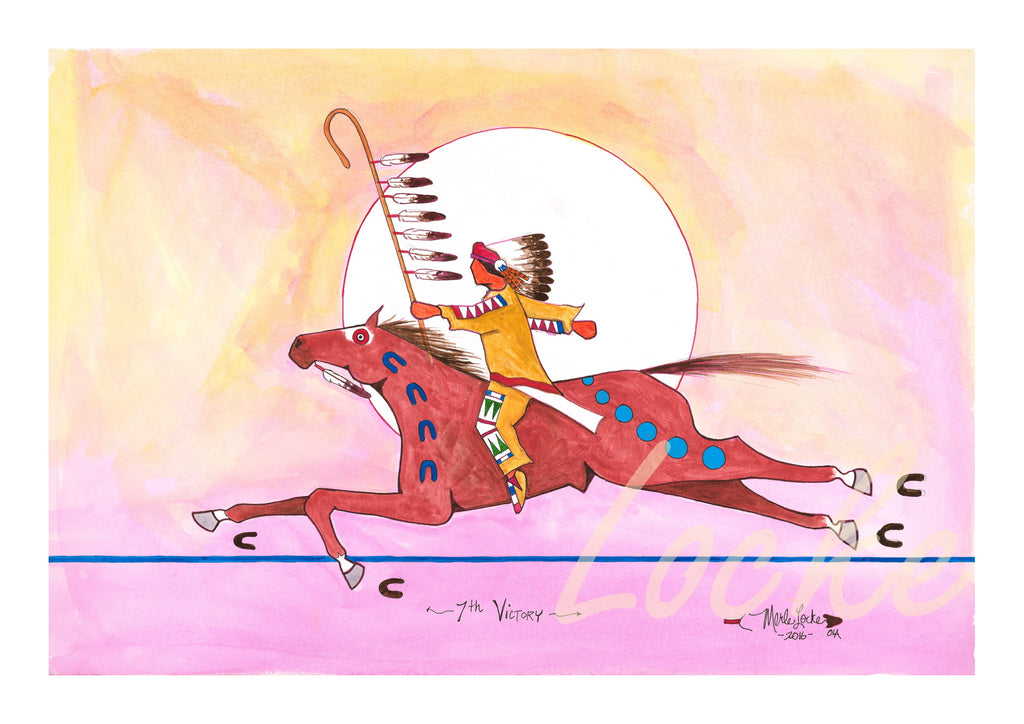 (Fine Art Print) Acrylic on Watercolor Paper - 7th Victory
A magical work by noted Lakota Artist Merle Locke!
7th Victory
A determined lance bearer rides against a pink and yellow background at full sun.
Signed Merle Locke OLA and dated 2016, this 16 x 24" acrylic on paper at first seems unassuming, but once framed, it is pretty and bright, bold, and has a beautiful simplicity that sets it apart from the artist's other work.
Prints: This original art has been sold but prints are available! A high resolution scan is used to produce giclée prints on watercolor bright white art stock the same 16x24" size as the original, with a generous 1" border to make framing easy. Once framed, the paper and print quality make it virtually indistinguishable from the original.
Framing Available: Prints can be beautifully matted and framed just for you using conservation-quality materials. Contact Us to design your perfect mat and frame combination and we'll provide an image of how it will look, along with the price. Please allow two weeks for delivery. Three possibilities are shown here.
Great Deal on Framed Print In Stock Ready to Ship! Only 1 Available!
This bold print is framed using all-new archival materials under glass in a very nice repurposed dark-stained solid oak frame with a striking Matte White (Cream) mat. The frame is finished with very sturdy light-grey Lineco backing and size-appropriate hanging hardware. Large finished size is approximately 22" x 33". The repurposed frame makes this a great deal!
Please be sure to check out our other offerings by Merle Locke!

The artist receives a royalty for each print made. The watermark "Locke" has been added for security and does not appear on the original or prints. Copyright remains property of the artist. Reproduction of any type without the consent of the both the artist and Seven Fires Art is expressly forbidden.
Contemporary Native American Fine Framed Art Western Plains Lakota Decor