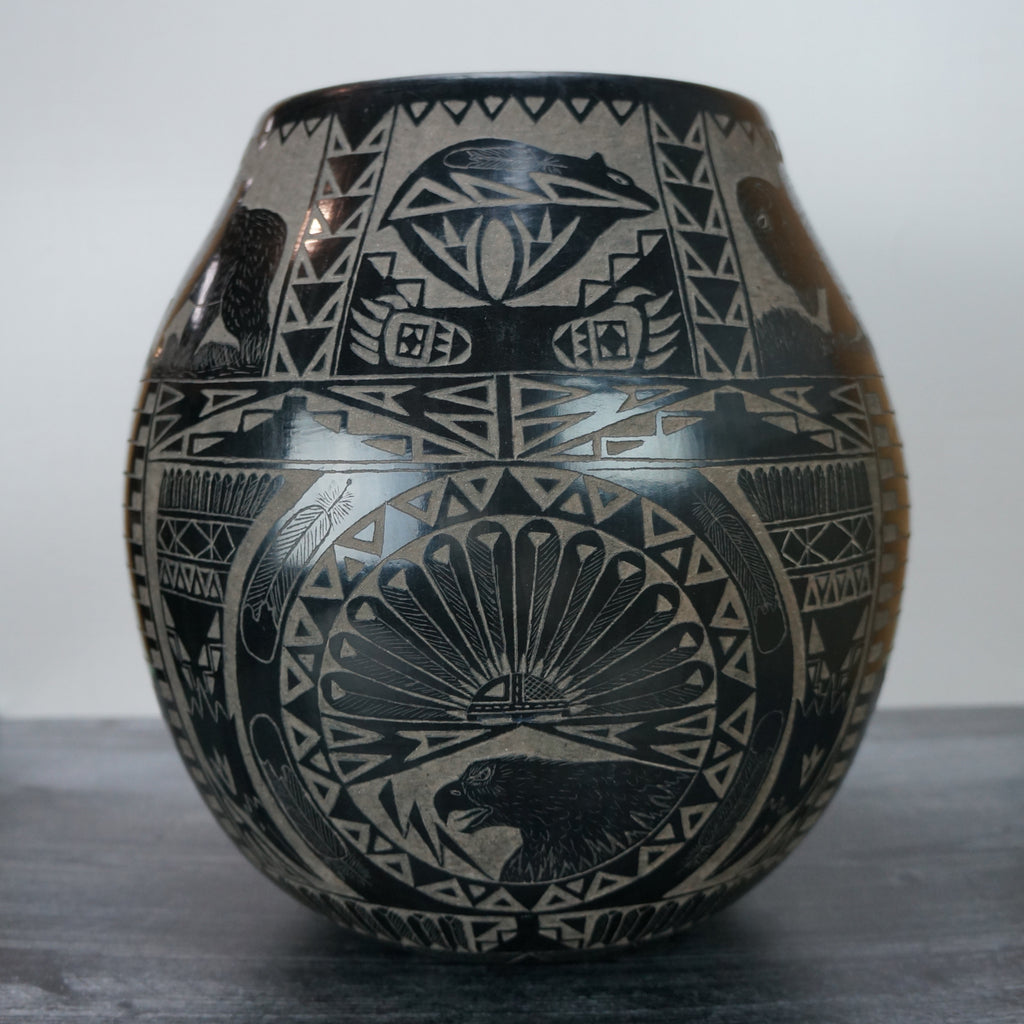 Elmer Red Starr Large Vase
Absolutely beautiful and impressive thrown and etched Santa Clara Pottery vase with an astounding number of beautiful examples of Red Starr's traditional sgraffito and contemporary Santa Clara designs.
This fine example of contemporary Native American art would be a fabulous addition to any collection.
11" tall, 10" diameter at widest point and 7" diameter opening. Signed Red Starr with an arrow, the word Sioux, three stars, and markings 2K21 - ui. We believe 2K21 indicates the piece was made in 2021. Clearly even in his 80s, Mr Red Starr is still at the height of his career with this fabulous vase.
Elmer Red Starr (Elk) was born into the Sioux Nation in Wisconsin in 1937. He married Harriet Tafoya of Santa Clara Pueblo and moved to her home there. He was inspired by his uncle, Charles Blunt Horn to learn to make pottery and is known to have produced sgraffito pottery as early as 1976, a time when Joseph Lonewolf and Grace Medicine Flower were making similar works. He is credited with having first made miniatures with sgraffito designs and inset turquoise, rapidly becoming proficient at design and execution and soon was a potter of note. His pottery became a worthy addition to his wood and stone carving and oil paintings. His nephew Norman Red Star was inspired by his work.
Red Starr used Santa Clara clays and methods to make his pieces then decorated them sometimes with traditional Sioux sgraffito designs, sometimes with contemporary Santa Clara designs, often with a mix of both. 
Red Starr's work is highly regarded and sought after. He signs his work Red Starr followed by an arrow and the date the piece was made.