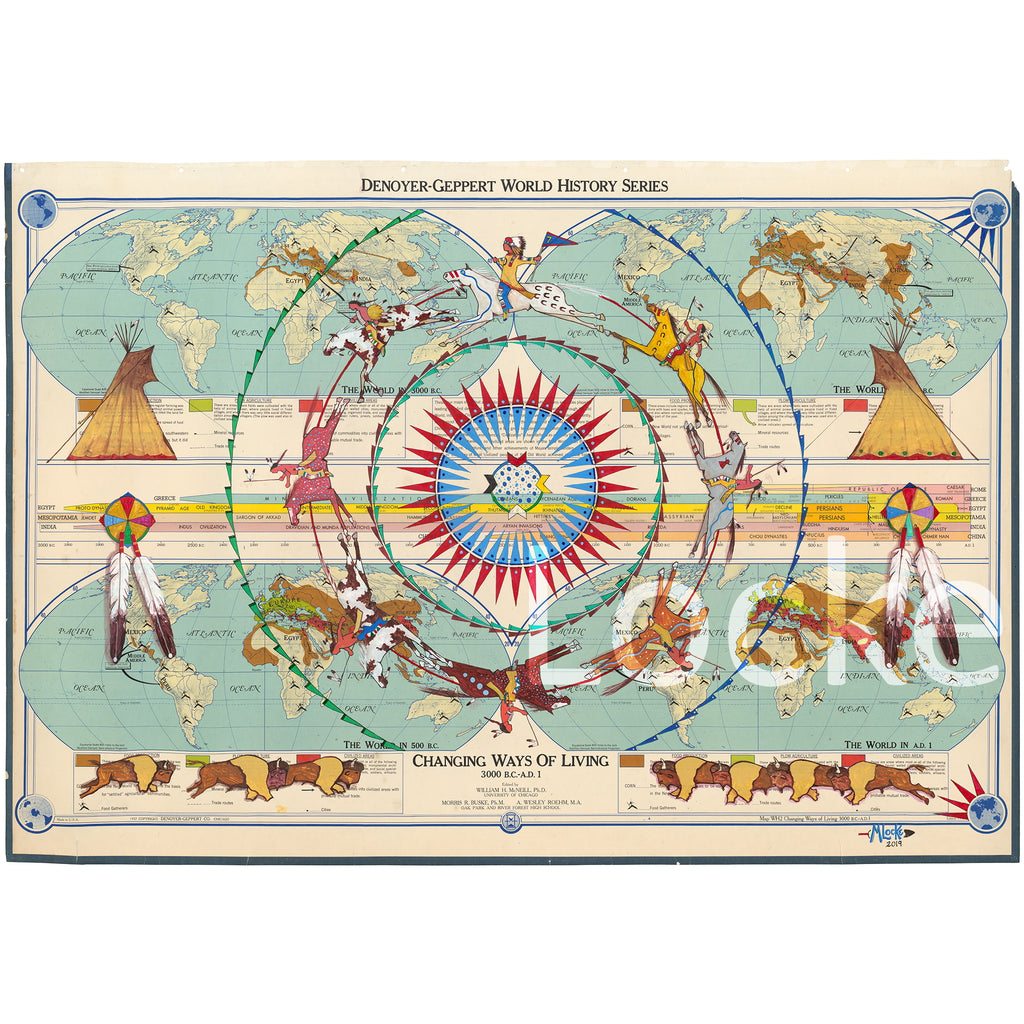 Original Ledger Art - Changing Ways of Living / School Map
623Seven Fires Art is pleased to offer this epic work of Ledger Art by Lakota Artist Merle Locke.
School Map ~ Changing Ways of Living
An absolutely incredible piece by Locke signed and dated 2019: Ledger Art on a pull-down schoolroom map, 1957 edition, entitled Changing Ways of Living. What makes this piece so meaningful is that the map itself shows migrations and changes in civilizations from 3000 BC to 1 AD and of course ledger art always addresses the western migration and confiscation of Native homelands by the white man. Locke has done a beautiful job of painting this interesting document.
Large 44" x 64" size. Unframed. A powerful, important piece. This is the first of five! Please contact us for more information about the upcoming series!
Prints: This painting is also available in limited-editions of four different sizes; high-quality giclée prints on fine art paper velvet with a 1" border. 
Framing: Archival-quality framing is available. Please contact us to design your perfect frame and mat combination. The example shown here is matted with a 2" ecru mat and 1.5" Country Charcoal Black frame.
Great Deal on Framed Print In Stock Ready to Ship! Only 1 Available!
A 36" x 25" size print is framed using all-new archival materials under acrylic glass in a great quality repurposed metal frame with an oversized navy blue mat. The frame is painted a dark oil-rubbed bronze and includes sturdy hanging hardware. Large finished size is approximately 42" x 31". The repurposed frame makes this a great deal! The plexiglas makes it shippable, lightweight and break-proof.
Copyright remains property of the artist. Watermark "Locke" has been added to protect copyright and does not appear in the prints or original.
The original will be shipped rolled loosely in an acetate sleeve and double-boxed.
Merle is one of the most recognized Oglala Lakota artists working today! 
Watch a video of Merle discussing his art.