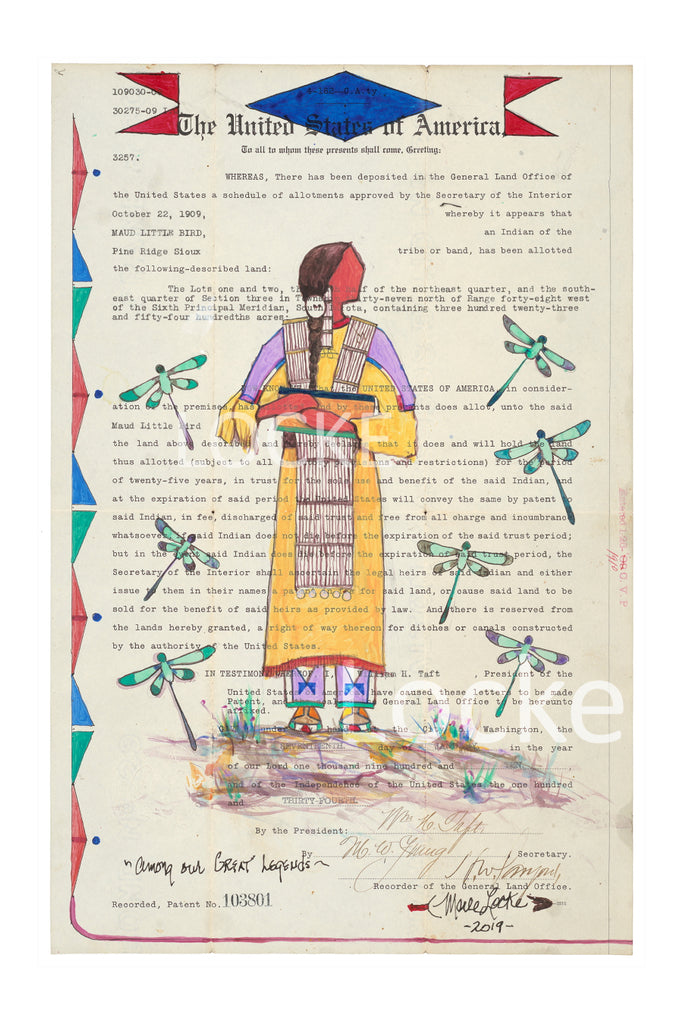 (Fine Art Print) Among Our Great Legends
Seven Fires Art is pleased to offer this very special work of Ledger Art by Lakota Artist Merle Locke.
Among Our Great Legends
Another terrific ink and acrylic signed Merle Locke and dated 2019 ... and the document used is especially significant.
Here, Locke portrays a winyan with a beautiful profile and surrounded by dragonflies looking to the distance, awaiting the return of her children who have been taken away from her to boarding schools. She holds a parfleche box containing food she is keeping for their return. Such a sorrowful truth to address ...
But the document attests to another truth, the allotment of land in the Pine Ridge area to Maud Little Bird in the amount of three hundred twenty-three and fifty-four hundredths acres. The original document, issued by the General Land Office of the United States of America, is dated October 22, 1909 and is signed By the President Wm. H. Taft by his Secretary, M. W. Fxxug (name unclear).
Diving deeper into Locke's work, you will always find a connection between the ledger and the art. Looking at this work you might find yourself asking, But what does a woman have if she has land but not her children?
16" x 10.5". Unframed; custom framing is available, please inquire.
The original work has been sold. Prints are also available. High resolution scans are used to produced fine quality giclee prints on premium art stock at the same size as the original plus a 1" border. Select Print Above.
Framing Available: This print can be beautifully matted and framed just for you using conservation-quality materials. Two great options are shown here,* or Contact Us to design your perfect mat and frame combination and we'll provide an image of how it will look, along with the price. Please allow two weeks for delivery.
*Option 1
Top Mat: Ivory     Bottom Mat: Blue Night     Premium Plexiglas
Frame: 1 1/4" Dark Brown Barn Wood (real wood) /w Sawtooth Hanger 
Option 2
Top Mat: Tawny     Bottom Mat: Blue Night     Premium Plexiglas
Frame: 1 1/8" Aspen Oak (MDF wood) /w Sawtooth Hanger
Conservation matboards and foam backing are completely archival with acid-free paper and cores,. These mats will last hundreds of years to protect the most valuable art. Framed using the Conservation Hinge method.
Merle is one of the most recognized Oglala Lakota artists working today! 
Watch a video of Merle discussing his art.