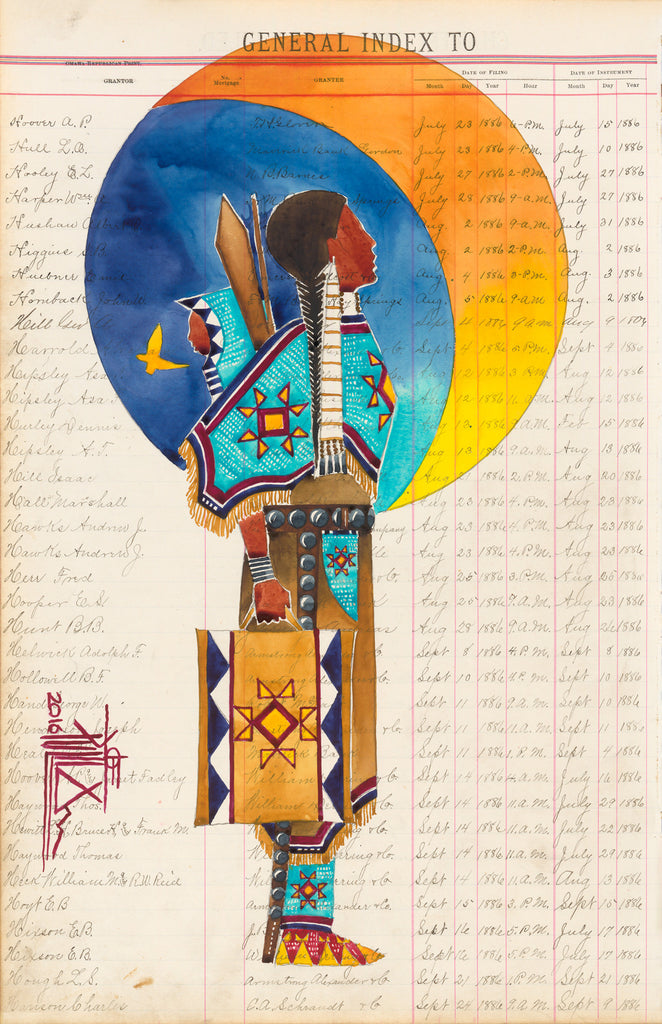 (Fine Art Print) Watercolor on Antique Ledger Paper ~ Winyan #2
We are pleased to offer for sale this excellent example of Native American Ledger Art by noted Lakota Artist Joe Pulliam!
Winyan with Parfleche Bag and Child in Cradle Board with One Butterfly
Original watercolor on antique ledger paper, signed with the artist's distinctive signature and dated 2016. Approximately 17" x 11". Unframed.

Mr Pulliam's bold colors on ledger paper bring history to life. Mr Pulliam is a nationally known, award winning artist. His work was featured in a 2016 ledger art exhibit at the Smithsonian's National Museum of the American Indian - New York and on the cover of their Spring 2016 magazine.
Condition of the Original: No defects or scratches to the art or unusual wear and tear, although normal signs of aging are visible on the antique ledger paper.
Prints: This painting is available in a limited-edition, high-quality print on archival fine art paper. 
The watermark Pulliam has been added to photos to protect copyright; it is not part of the piece. Copyright remains the property of the artist.