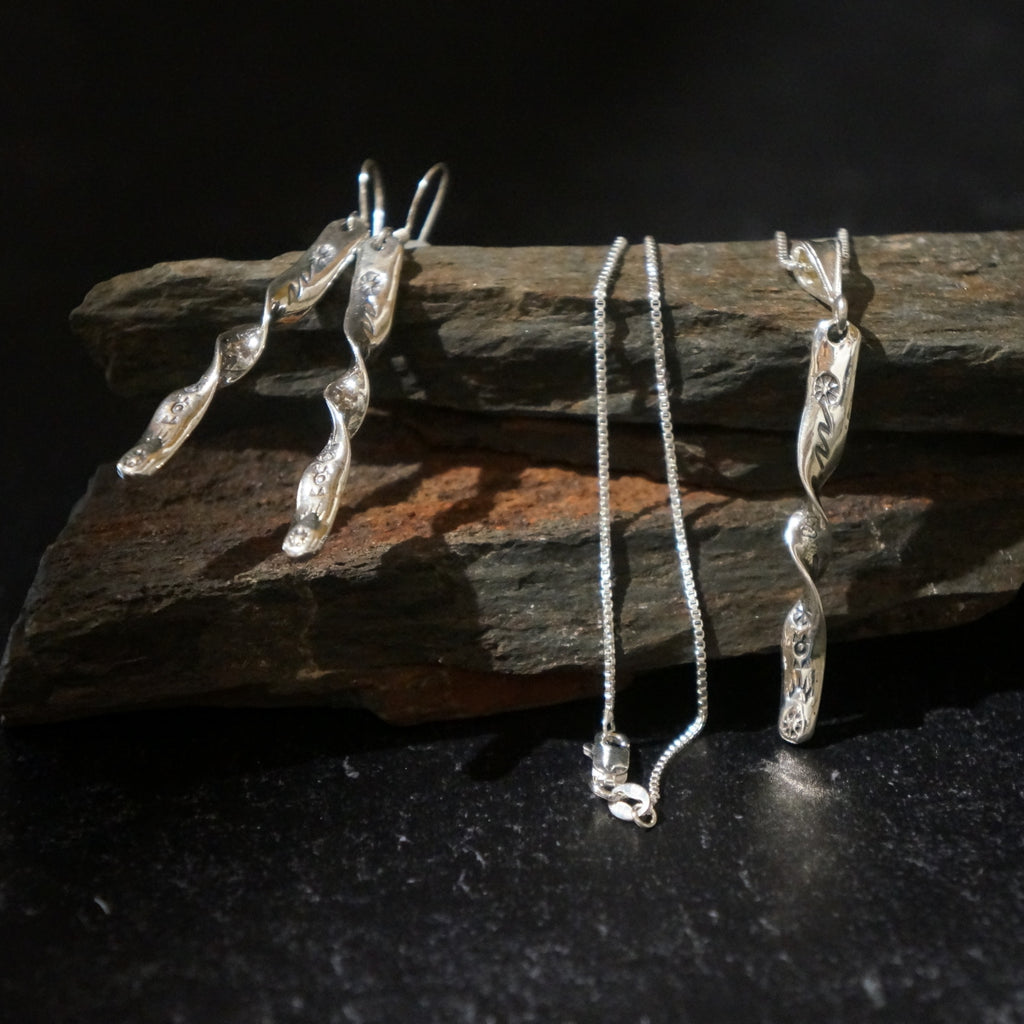 Twisted Prayer Stick Pendants & Earrings ~ Seven Sizes!
Super cool sterling silver pendants with high polish in a variety of sizes so everyone can find their perfect length! A narrow strip of heavy silver is stamped with symbols and then twisted by hand.  Each one bears the artist's signature stamp at the bottom.. 
Designed by Stuart Proud Eagle Grant and made in the USA.
Twisted Prayer Stick Pendants and Earrings 

Please note; Pendants and earrings are sold separately. Four sizes are available as pendants and earrings; two larger sizes are available as a pendant only:
1 5/8" Pendant & Earrings
1 7/8" Pendant & Earrings
2 1/8" Pendant & Earrings
2 5/8" Pendant & Earrings
3 7/8" Pendant Only - No Chain
5 1/2" Pendant Only - No Chain
Pendants are finished with a substantial sterling silver bail and 16" chain except the 3 7/8" and 5 1/2" pendants, which have the bail but do not include a chain. Earrings have sterling silver French wires. Lengths shown do not include the bail or ear wires.
Each Lakota family kept a Prayer Stick. Each symbol on their stick represented a family member. They held their family while in prayer. A lightning bolt forms in the twist of the Prayer Stick. This gives power and balance between Heaven and Earth as lightning strikes from the ground up.
Many Stuart Grant sterling silver pieces are oxidized (intentionally tarnished) to enhance the design. Do not use liquid or dip silver polish on oxidized pieces. Store sterling silver in Ziploc bags to deter tarnishing. Clean with a soft silver polishing cloth and use a paste silver polish only on the raised and smooth surfaces when necessary.