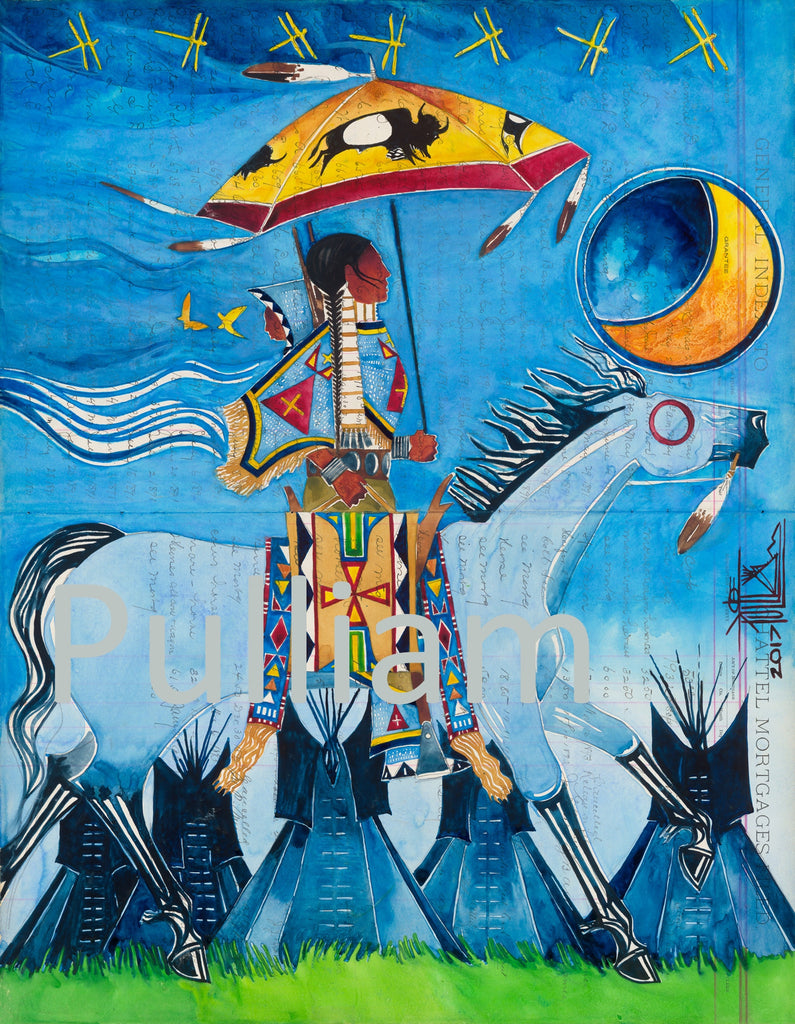 (Fine Art Print) She Rides with the Wind Before the Storm
Seven Fires Art is pleased to offer this stunning piece by noted Lakota artist Joe Pulliam! Native American watercolor on double ledger.
She Rides with the Wind Before the Storm
The original watercolor on antique ledger paper from Sheridan County, NE just south of the Pine Ridge, signed with the artist's distinctive signature and dated 2017 is reproduced beautifully in a full-size, fine quality giclee' print on Archival Matte paper!
Inspired by the Standing Rock pipeline protest, this fabulous piece features a wealth of Lakota imagery. Colorful and striking, Mr Pulliam's bold colors bring history to life.
23" x 18" with 1" border. Unframed.
Framing
Prints can be beautifully framed just for you using conservation-quality 
materials. Contact Us to design your perfect mat and frame combination and we'll provide an image of how it will look, along with a quote. Please allow two weeks for delivery. Five framing suggestions are shown in photos; two popular designs can be selected above.
Mr Pulliam is a nationally known, award winning artist. His work was featured in a 2016 ledger art exhibit at the Smithsonian's National Museum of the American Indian-New York and on the cover of the NMAI's Spring 2016 Magazine.
The watermark Pulliam has been added to protect copyright; it is not part of the piece. Copyright remains the property of the artist.