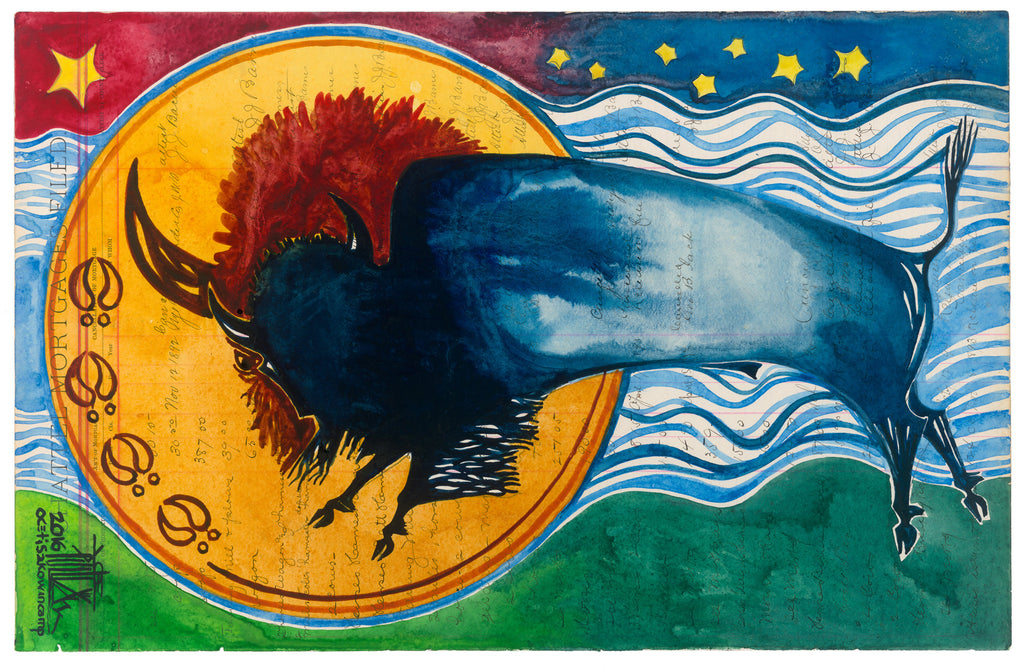 (Fine Art Print) Protector of the Water Protectors
We are pleased to offer this stunning piece by noted Lakota artist Joe Pulliam! Native American watercolor on double ledger.
Protector of the Water Protectors
The original watercolor on antique ledger paper from Sheridan County, NE just south of the Pine Ridge, signed with the artist's distinctive signature and dated 2016 is reproduced beautifully in an achival quality print!
11.5" x 17.5" with 1" border. Unframed. 
Inspired by the Standing Rock Dakota Access pipeline protest, and in fact painted at the Oceti Sakowin Camp, this is a bold work speaks to Pulliam's participation in the protest. The buffalo stands guard over the water as only the buffalo can.
Mr Pulliam is a nationally known, award winning artist. His work was featured in a 2016 ledger art exhibit at the Smithsonian's National Museum of the American Indian-New York and on the cover of the NMAI's Spring 2016 Magazine.
Condition of the Original: No defects or scratches to the art or unusual wear and tear, although this piece is done on antique ledger paper and so normal signs of aging are visible.
Prints: The original has been sold; this painting is available in a limited-edition, high-quality print on archival fine art paper. 
Copyright remains the property of the artist.